News Taffy
News Article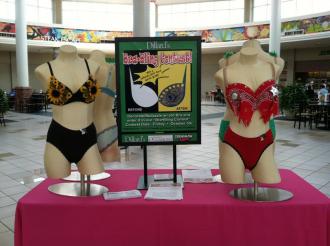 Bling a Bra for Breast Cancer Research
Bling your bra this week to raise money for breast cancer.
Dillard's is now accepting blinged-out bras to benefit breast cancer research. Entries should be submitted before 9 p.m. on Thursday, October 4.  Anyone can enter!
Voting will be held on Friday, October 5, all day long. A person can vote by visiting the Dillard's entrance to the mall and placing money into the jar of the bra that they like the most!  The bra that raises the most money will win a $100 Dillard's Gift card. All money collected during voting and entry fees will go directly to the Arkansas Affiliate of Susan G. Komen.
"We are very excited about this fabulous event and hope all women will participate," said Candice Moore of Dillard's, who is organizing the fundraiser. "All women wear bras, so why not put a little bling on them for a great cause? Help us raise awareness for breast cancer in style."
Sponsored by Dillard's, Jonesboro Occasions and  Crenshaw Signs.
[+] add comment