News Taffy
News Article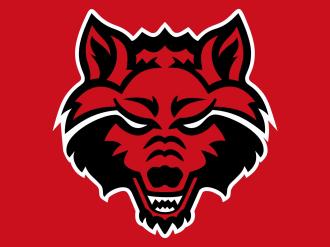 A-State wins home opener against UAPB
Four Arkansas State University players rushed for more than 100 yards as the Red Wolves cruised to a 62‐11 season-­opening victory over Arkansas­‐Pine Bluff (UAPB) Saturday in front of a crowd of 30,451 spectators at Liberty Bank Stadium in Jonesboro.
Senior David Oku paced A-­‐State with a game­‐leading 124 yards rushing while senior Sirgregory Thornton ran for 112 yards, sophomore Michael Gordon with 102, and sophomore Fredi Knighten had 101 yards as the Red Wolves tied a NCAA Division I FBS record for most players on one team gaining at least 100 yards.       
Arkansas State, which is 1­‐0 on the season, snapped a three­‐game losing string in season  openers as the Red Wolves put on an impressive offensive performance against UAPB (0‐1) with a team 509­‐rushing yards output in their first home season‐opening contest since  2009.
A-­State's 509 rushing yards in the game represented the fifth time in which the Red  Wolves have reached the 500-­yard plateau in a contest.
UAPB came into the first-­ever meeting with A-­‐State as the defending Southwestern Athletic Conference Champions and the preseason favorite to win the SWAC Western Division title.
"I was very proud of our players with the mindset they came out with tonight," said A-­‐State head coach Bryan Harsin, who made his collegiate head coaching debut tonight.  "I think  the crowd was electric. When we had the Order of the Pack earlier in the week, I felt like if we had that many people and that type of atmosphere by game time then our guys would be excited to get out there and play.
"Today was all about us going out there and doing our jobs. Really just taking everything  we've done through spring ball, summer  and fall camp into tonight's game. I'm really  proud of our coaches and the effort they put in preparing the players, the type of organization they showed throughout the week," added Harsin.
Arkansas State dominated the first half as the Red Wolves scored 48 unanswered points while rolling up 480 yards in total offense, including 344 on the ground, to hold a commanding 48­‐0 at halftime.
The Red Wolves led 14­‐0 after the first quarter on touchdowns runs by quarterback Fredi  Knighten and redshirt sophomore wide receiver J.D. McKissic. Knighten's 21­‐yard scoring run at 10:33 on Arkansas State's opening possession capped a seven‐play, 60-­yard scoring drive giving the home team a 7-­‐0 lead.  A-­‐State added its second score of the game as  McKissic went into the end zone from 14 yards out with 2:13 remaining in the opening frame.
Arkansas State continued its dominance in the second quarter by erupting for 34 consecutive points with all but one TD coming on the ground. David Oku scored his first of  two TD's in the stanza on a two-­‐yard scamper at 13:47 to give A­‐State a 21-­‐0 lead after  senior quarterback Adam Kennedy hooked up with running back  Michael Gordon on a 48‐yard pass. Fredi Knighten broke through the UAPB defense on the ensuing play for a 79‐yard gain to the UAPB one­‐yard line before netting the score on a one-­yard keeper with 9:33 remaining. Oku would hit paydirt again for the second time on a 17-­‐yard rush as the Red Wolves extended their lead to 34-­‐0.
UAPB   threatened to score midway through the quarter as the Golden Lions moved the ball down to the A­‐State five‐yard line, but turned the ball over on downs as quarterback Benjamin Anderson's pass on fourth down was incomplete. On the next A­‐State possession,  Michael Gordon broke a tackle on the second play and outraced all defenders down the sideline for a 91-­‐yard TD run to make it 41-­‐0. The Red Wolves' final score before the half occurred with 2:09 left as Adam Kennedy connected with senior wideout Julian Jones on  a 22‐yard TD pass play. Michael Gordon (102 yards) and Fredi Knighten (101 yards) combined for 203 rushing yards through the first half.
Arkansas State picked up right where it left off to start the second half as the Red Wolves scored two third-­‐quarter TD runs by running back Sirgregory Thornton, covering six and 31 yards, respectively.     UAPB, trailing 62­‐0, would get its first points of the game with 6:23 to go in the stanza as the Golden Lions' Jer‐ryan Harris scored on a 37-­‐yard fumble recovery.
UAPB came back to score again in the frame on a 39-­‐yard Tyler Strickland field goal with just over two minutes in the third to account for the final margin.
"When our players came out on all sides of the ball, we did a great job of establishing the  run game which is what we wanted to do," said Harsin. "I thought Adam (Kennedy) did a great job of operating the offense. I know he didn't get that many chances to throw the ball tonight, but when he did it was the right way and the way we wanted him to."
The Red Wolves generated a program fifth-­best 509 rushing yards and averaged 8.9 yards per carry to account for the bulk of their 672 total offensive yardage. A-­‐State also totaled 163 yards in passing. ASU's defense held UAPB in check by limiting the Golden Lions to 173 yards of total offense, which consisted of 12 rushing yards and 161 through the air.                 
Adam Kennedy was nine­ of­ 12 in the air for 149 yards in his A‐State debut as seven different receivers caught at least a pass. UAPB's Benjamin Anderson threw for 161 yards.    
[+] add comment