News Taffy
News Article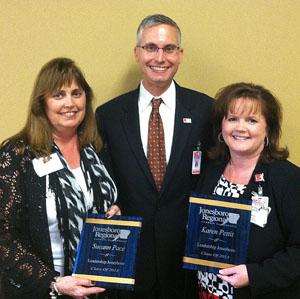 St. Bernards Congratulates Sueann Pace and Karen Pettit
St. Bernards congratulates Karen Pettit and Sueann Pace on their graduation from the 2013 Leadership Jonesboro program of the Jonesboro Regional Chamber of Commerce.
Pettit, who works in Quality, Safety and Risk Management, and Pace, who works in Physician and Community Outreach, were among those in the Leadership Class of 2013 who were honored at a graduation luncheon Aug. 29.
The program identifies and motivates potential leaders to become involved in the future of the community. Participants take part in a nine-month program which brings together individuals from diverse backgrounds and experiences from the business community and allows for face-to-face discussions with experts from a variety of local organizations and institutions. Class members have unique opportunities to examine the dynamics of social, political and economic changes that affect community life.
[+] add comment