News Taffy
News Article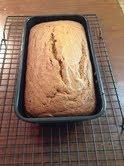 Little Hands' Pumpkin Bread
Once autumn rolls around, my family starts craving all things pumpkin. In fact, I even buy cans of pumpkin in bulk at Sams because I bake pumpkin bread, pumpkin pancakes, pumpkin oatmeal, pumpkin cream cheese roll, and anything else that might pop up on my Pinterest page. I shared this recipe for my very favorite pumpkin bread on this month's issue of Occasions. It makes a very soft, moist bread that is great for breakfast, snack, or dessert!
INGREDIENTS:
• 1 1/2 cup flour
• 1/4 tsp. baking powder
• 1 tsp. baking soda
• 1/2 tsp. salt
• 1 1/2 tsp. cinnamon
• 1 tsp. ginger
• 1/2 tsp. nutmeg
• 1/4 tsp. cloves
• 6 tbsp. butter
• 1 cup sugar
• 1/3 cup brown sugar
• 1/2 tsp. vanilla
• 2 eggs
• 1 cup pumpkin puree
• 1/3 cup milk
DIRECTIONS: Preheat oven to 350ºF. Whisk together first eight dry ingredients in one bowl. In mixing bowl, cream butter and sugars. Add vanilla and eggs, then pumpkin. Alternate adding in flour mixture and milk. Bake until toothpick comes out clean, approximately one hour.
Until next time, Heather
[+] add comment