News Taffy
News Article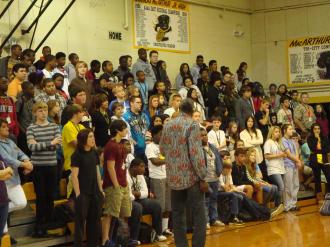 Investing in our future - Bigg Milt comes to town.
From October 7th through October 9th Mr. Milton Creagh a/k/a Bigg Milt was able to speak to over 4,300 Jonesboro students about the choices they make every day concerning drugs, alcohol and violence in our communities. He is one of the most powerful and entertaining motivational speakers in America.
Funding for Bigg Milt's Jonesboro speaking tour was provided by Out of the Dark Inc., City of Jonesboro, Craighead County Community Foundation and Elks USA.
Bigg Milt speaks to more than 250,000 students each year. He has presented to two (2) U.S. Presidents and has been a guest on CNN, TBN; FOX's Fox on Family, BET's Screen Scene, and The Amanda Lewis Show and featured in Upscale, Jet, Belle, and Right On magazines as well as hundreds of newspapers around the country. He has conducted workshops in 49 states, Central America, South America, the Caribbean, Africa and Canada. He has also presented at four NFL Super Bowls, three NCAA Men's Final Fours, the United Auto Workers' Work/Family Balance Conference, the US Conference of Mayors Drug Symposium, and the Justice Department's Diversity Conference.
[+] add comment