News Taffy
News Article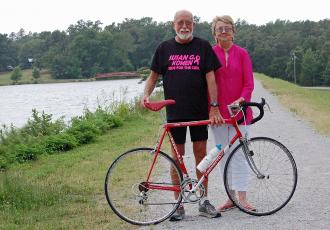 Deb McInturff Named Honoree for 2014 Arkansas Ride for the Cure
Deb McInturff of Jonesboro has been named honoree for the 2014 Arkansas Ride for the Cure.
The Trumann native is a 13-year breast cancer survivor. She was diagnosed with breast cancer in February of 2001 when she and her husband Jim lived in Forrest City. She had surgery the following month, followed by chemotherapy and radiation. She had been faithful to get yearly breast exams, so the diagnosis was a shocker.
It took some time just to collect her thoughts and adjust to the fact that she was one of those "one in eight" women who get breast cancer. Her initial diagnosis indicated cancer in one breast – but follow-up studies confirmed problems with both. That meant that she went through the "diagnosis" adjustment two times.
An elementary teacher for 22 years, she is former runner, walker and biker. Deb struggled with treatments. She was quite ill and absolutely exhausted all the time.
"Before that I did daily runs," she says.
She and her husband also did a weekly group bike ride from Forrest City to Palestine.
"This cancer meant a change to a totally different way of living," she said. "There were times when I could hardly get out of a chair."
One of the hardest things for her – and many other breast cancer patients – was losing her hair.
"That meant I had totally lost control," she says. "And I needed some control.
"I had some pity parties," she said about life during treatment, "but I was the only one invited. I had to adjust … had to get in control."
At the time, Jim had a beard and hair long enough put in a ponytail. But to show his support, he surprised her by coming in one day with no beard and with his head shaved.
"I saw someone walking up to the door," she recalls, "and I couldn't imagine who it was. Then this man came into my house … and it took a minute to realize it was Jim."
She was, of course, touched … but told him: "Someone in this house will have to have hair!"
She completed a seven-week course of radiation treatments, and by late November her hair was growing back. To celebrate, the couple booked a cruise.
"On Christmas day, we were off the coast of Caracas, Venezuela," she said.
In 2008, the McInturffs moved to Jonesboro, where Deb is an academic facilitator at the International Studies School and Jim is an adjunct professor at Arkansas State University. In the last 12 years, the two have pursued things they might not have if life had not thrown them the "C" curve.
One of the most memorable was both carrying an Olympic torch as it traveled through Arkansas and Tennessee. Jim's run was in Forrest City, and Deb's in Memphis.
"I really think that helped me come back," she says. "It helped me get control."
Now she uses every chance she gets to talk with others who have breast cancer.
"I just try to give them a chance to talk about it with someone else who has been through it," she said.
Both are strong supporters of the Susan G. Komen Race for the Cure in Little Rock, taking part almost every year. Jim also has taken part in most of the Arkansas Ride for the Cure events. When this year's Ride gets underway on July 26, Deb will help put names on riders' legs or arms. And she will signal the start the race. Jim will hit the road with the other cyclists.
The Ride is an event which serves a dual purpose. It gives cycling enthusiasts an opportunity to join for a fun recreational ride while at the same time increasing the awareness of breast cancer, and it benefits the Arkansas Susan G. Komen affiliate.
The first Arkansas Ride for the Cure was held in 2009, with Dianna Shatley of Jonesboro as the honoree. Others have included Vickey Perry Walden of Paragould, 2010; Betsy Barrett of Jonesboro, 2011; Heather Rohlfing of Jonesboro, 2012; and Paula Pickens of Jonesboro, 2013.
Cyclists can find additional information and can register for either 20- or 50-mile routes by going to www.ArkansasRideForTheCure.com. The ride will start and end at St. Bernards Health & Wellness, 1416 East Matthews Ave.
[+] add comment
I am so proud of you "99". What an incredible story, awesome person, and special couple. -"86"