News Taffy
News Article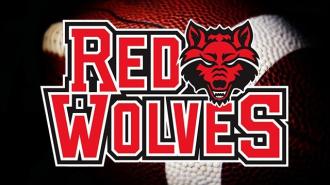 A-State Football Accepts GoDaddy Bowl Invitation
The Arkansas State Athletics Department announced today that the Red Wolves' football team will compete in a bowl game for the fourth consecutive year after accepting an official invitation to play in the 2015 GoDaddy Bowl at Ladd-Peebles Stadium in Mobile, Ala., on Jan. 4 at 8 p.m.
A-State, winners of the last two GoDaddy Bowls, will face a Mid-American Conference opponent to be announced at a later date in the ESPN nationally-televised game. The Red Wolves will make their fourth straight appearance in the GoDaddy Bowl and will play their 11th bowl game all-time.
"We're not only excited to continue our season, but specifically to play in a postseason game as highly regarded as the GoDaddy Bowl," said Blake Anderson, who has tied the third most victories ever by a head coach in his first season at Arkansas State. "Our team has persevered and worked extremely hard this season to put itself in this position, so we want to take full advantage of this opportunity and finish our season strong."
This year's game will be the 16th edition of the GoDaddy Bowl, which was played for the first time in 1999. Arkansas State dropped a 38-20 decision to Northern Illinois in the 2012 GoDaddy Bowl, but claimed a 17-13 victory over 25th-ranked Kent State in 2013 and a 23-20 win over Ball State in last year's version of the contest.
"We're delighted to be a part of this first-class bowl game and can attest that the hospitality shown by the GoDaddy Bowl and city of Mobile is second to none, so we know the tremendous experience ahead for our program and our fans," said A-State Director of Athletics Terry Mohajir. "I can't say enough about the outstanding work (GoDaddy Bowl President) Jerry Silverstein and his staff puts into not only the actual game, but all the events and pageantry leading up to it.
"The GoDaddy Bowl had the second pick in the Sun Belt, and they made it clear they wanted Arkansas State back. That is a great testament to our team, our university, our alumni and our fan base. I cannot express enough how important is for our fans to show up in great numbers as we not only continue our track record of great attendance, but exceed it."
A-State completed the regular season with a 7-5 overall record, marking its fourth consecutive year with a winning record for the first time since 1984-87 when it was an NCAA I-AA (now FCS member). The Red Wolves also posted a winning Sun Belt Conference record (5-3) for the fourth straight year and seventh time since the football league was formed in 2001.
Arkansas State has won 25 of its last 31 Sun Belt games and has 35 victories over the last four seasons to rank among the top 25 teams in the nation in total wins over that span. The Red Wolves have 10 seniors on their roster who will not only end their careers as part of the most successful class in A-State's FBS history, but also having competed in a bowl game each of the last four years.
Fans are strongly encouraged to purchase tickets only through the A-State Ticket Office to directly support the Red Wolves and to ensure they receive priority seating within the designated A-State area. Bowl tickets are only $45 per ticket when purchased through the A-State Ticket Office.
Student tickets are available for $15 in the designated student zone when ordered through the A-State Ticket Office. Students may also use their A-State Express Dollars to purchase tickets. The A-State Ticket Office, located at the Convocation Center's lower red entrance, is currently taking walk-up or telephone (870-972-2781) orders, and tickets can also be purchased online at tickets.astate.edu.
From now until 8:00 a.m. Wednesday, Dec. 10, all tickets purchased will be allocated based on Red Wolves Foundation Priority Point totals. Seat allocations will begin at 8:00 a.m. on Dec. 10. That process is expected to be completed by Friday, Dec. 12. The Red Wolves' allotment will be on the east side of Ladd-Peebles Stadium. Tickets purchased after the priority purchase date of Dec. 10 will be allocated on a first-come, first-served basis.
[+] add comment