News Taffy
News Article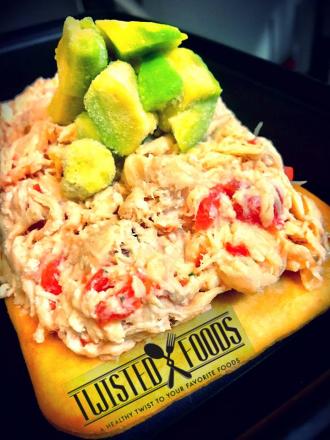 The Cardiologist's Wife - Twisted Foods Review
I write about food and eating a lot, partly because I love good food but also because I recognize the importance of a healthy diet. When I eat foods that are good for me, I notice that I feel much better than when I eat foods that are too sugary, salty or that have little fiber. Even back in 460 B.C., Hippocrates realized that eating the right foods was key to good health. His quote, "Let food be thy medicine and medicine be thy food." could not be more true as scientists unlock the important role that food plays in the proper functioning of our body.
But I am also a practical person and I realize that meal planning and cooking is a difficult and daunting task for many. So when I heard about Twisted Foods Eatery and Meal Prep I had to check it out. Twisted seeks to take the guess work out of the age old question of "what am I going to eat?" by offering a comprehensive meal plan. Twisted starts with an initial consultation to discover your dietary needs and health goals. Then a plan is tailored for your exact needs whether you want to lose weight, gain muscle mass, are diabetic, vegan or whatever. You fill out a detailed questionnaire on your food likes and dislikes plus what you are willing to try. Last you decide on a meal plan for 3, 5 or 7 days and whether you want to pick your meals up or have them delivered to your door.
The meals are ready to be microwaved with no additional cooking. Each meal will last for several days in the refrigerator but they do recommend freezing some of the meals if you are on the 7 day plan to ensure freshness. The food is prepared fresh daily using local produce, lean meats, low sodium and no preservatives or ingredients you can't pronounce. Each plan includes a breakfast, lunch and dinner meal plus a snack.
I purchased 4 different meals for my family to try and here are the taste/quality opinions. All of us felt the meat was tasty and the 4 ounce portion was adequate except my son needed a larger portion for his age and activity level. The vegetables and sides were fresh and there was a good variety but none of the vegetables seemed to have any seasoning. We are used to having more herbs or spices on our vegetables to enhance their flavor.
It is expensive to just go in and buy a meal once in awhile; 4 meals cost me $51 so the plans are more cost effective. You can also go in over the weekend and get 5 meals for $30 which is a significant savings.
My verdict is that Twisted offers a very useful service for those who really don't want to cook yet are looking for a healthy option or have dietary restrictions. The meal plans would be nice for an elderly person who doesn't or can't cook. Twisted also offers a breakfast and lunch menu Monday through Thursday until 2 p.m. Menu items include wraps, burgers, pasta dishes, bowls and smoothies. Twisted is located at 1320 Red Wolf Blvd near the Lower Deck. Stop by and give them a try!
[+] add comment