News Taffy
News Article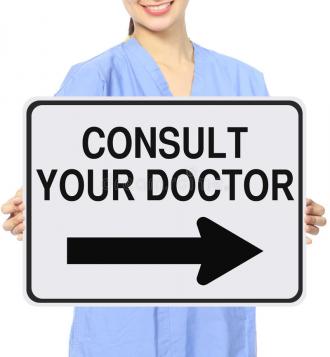 The Cardiologist's Wife - See Your Doctor!
A young college student I know went to the campus medical clinic to see if she had the flu recently. Because she had had symptoms for 4 days, the nurse discouraged her from seeing the doctor, telling her that even if she had the flu, it was too late for Tamiflu, they could only treat the symptoms. All the nurse did was take her temperature and blood pressure; she never even looked at her throat or checked her lymph nodes or ears. Three weeks later, the student was still sick, ears so stopped up she could hardly hear and so hoarse she couldn't speak. Three weeks of needless suffering when the doctor should have ruled out strep, mono, sinusitis or the flu.
Unless you are a child and your Mom and Dad still look out for you or you are too ill and need a health advocate, there is no one more vested in your health than yourself! Yet too many times we are unprepared to get the most from a visit to the doctor or worse, we don't seek health care when we really should. As an adult, you should take charge of your health and learn to navigate the complicated health insurance system as best you can and be prepared to do what it takes to get the answers and care you need. Here are a few tips to guide your decision making and help you be prepared for the next medical visit.
First, understand how your health insurance plan works. You need to know how much coverage you have, whether the doctors you prefer to use accept your plan so you don't incur expensive out of network costs and whether you qualify for government subsidies. Know how much your premiums are (the payments you make for your policy) and how much your deductible is (the amount you have to pay before insurance kicks in). You also need to know how much your coinsurance is (your share of any medical bill, for example your insurance may pay 80% of the bill while you are required to pay 20% after the deductible is met) and your copay (the amount your insurer requires you to pay your health care provider for an office visit, such as a $20 copay to visit the pediatrician). Make sure you understand your prescription plan. If you know these basics, you will be better prepared to make health care decisions.
Next, be prepared when you have a doctor's appointment. Have a list of all medications and supplements you are currently taking. Have a list of any symptoms you've been experiencing and questions you have so you don't forget anything. Don't be afraid to ask questions if you don't understand your diagnosis, medications or the treatment plan. Most of all, don't be put off without gaining an answer to your problem like the young college student was.
Do some research if you've been given a diagnosis you don't understand but make sure to use a reputable source like WebMD. That way you can better discuss your outcome, treatment options and expectations with your doctor. If you have a complex diagnosis, a poorly understood problem, a life threatening condition or you simply feel uncomfortable with the treatment plan, seek a second opinion.
Keep track of your medical history by writing down the diagnosis, date and treatment of any condition you've had. Most important, work with your doctor by following the treatment plan exactly, taking all your medications as prescribed and keeping your doctor informed of any unusual changes.
[+] add comment