News Taffy
News Article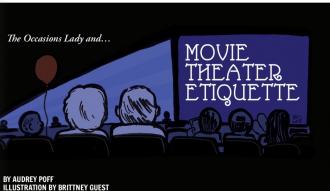 The Occasions Lady and Movie Theater Etiquette
For movie fans, the biggest event of the year is almost here. On March 4, the 90th Academy Awards will honor the best films of 2017 with Oscars.
Rodney and I have seen all but three of the nominees for best picture so far this year. While we both enjoy going to the movies, like others, we often encounter people who lack movie theater etiquette. Recently, we were surrounded by a large group of adults who met at the theater for a matinee. They infringed on our space and held conversations before and during the movie. We had such a bad experience that we decided to see another movie that evening just to end the weekend on a good note.
With the Academy Awards only a few days away, I thought I would share a few things that can make perfectly rational people come unglued at the theater:
• Late arrivals. If you arrive late and the theater is near capacity, don't go on a scavenger hunt looking for seats or friends in the dark. Seat yourself quickly.
• Yappers. If you are speaking loudly during the previews, I am debating whether to go ahead and move or gamble on whether you can be quiet when the movie starts. You've already become a distraction.
• People who lack boundaries. When you purchase a ticket to a movie, you are entitled to one seat. Don't put your feet on the back of someone's seat or pull on the back of another person's chair when you get up. It's rude and unnerving.
• Adults who bring children to inappropriate movies. I was amazed at the number of young children watching Stephen King's "It" last year with adults. If you want to see an adult-themed movie, wait until you have a babysitter so you don't freak your kids out.
• People who are contagious. If you are sick and possibly contagious, please stay home and watch HBO or Netflix. In the midst of flu season last month, I made a make-shift mask out of my scarf when the man behind me started coughing and I realized how naïve it was to think that sick people stay home.
• Cell phone addicts. If you can't put your phone away, turn down the brightness and put your phone on vibrate or airplane mode. In the event that you must take a call, don't start talking until you are making your way out the theater door.
• Creepers. When you enter a mostly empty theater, give people their space. Don't sit directly in front of or next to someone if there are plenty of other options. Don't be creepy.
[+] add comment