News Taffy
News Article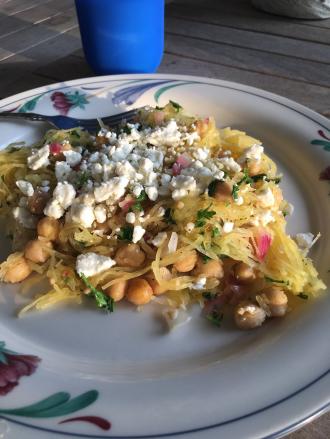 The Cardiologist's Wife - Spaghetti Squash (with recipe!)
The next time you are in the grocery store, don't pass up the yellow oblong squash which looks a bit like a pale watermelon. When cooked, the inside flesh pulls out in long strands resembling spaghetti. This mild tasting squash is very easy to prepare and can be dressed up in endless ways. Though spaghetti squash is often recommended as a substitute for pasta in a marinara sauce, it is so much more versatile than being a stand in and you are missing out if you haven't tried it any other way.
Spaghetti squash is low in carbohydrates, rich in antioxidants and several minerals. A one cup serving contains 40 calories and almost 10% of your daily needs for vitamin C , 9% of fiber plus several B vitamins, potassium and folate. It also contains a fair amount of omega-3 and omega-6 fatty acids which have been shown to be beneficial for preventing inflammation that causes heart disease, arthritis and certain cancers.
The following recipe is great as a main dish or can work as a side dish with just about any meat. My husband and I ate it last night as a main dish and found it satisfying and filling. We have made a commitment to eating more vegetarian meals as a way to improve our overall health. It's important to remember that the foods we eat can either contribute to good health or poor health; the decision is yours which type you pick.
Spaghetti Squash with Chickpeas and Feta
1 3lb. squash
1 small red onion, diced finely
4 Tbsp. fresh lemon juice
2 Tbsp. olive oil
2 cloves garlic, minced
1 15 oz. can chickpeas, drained and rinsed
1/2 cup chopped fresh parsley
2 oz. crumbled feta
1 tsp. salt
pepper to taste
Using a large knife, halve the squash lengthwise, scrapping out seeds. Place both halves cut side down in a microwavable dish, adding a splash of water. Microwave 9 to 11 minutes or until tender. Let cool a few minutes, then flip over and use a fork to shred squash into strands. Set aside. While squash cooks, toss onion, lemon juice and a pinch of salt and pepper in a small bowl. Set aside. In a large skillet, heat 1 Tbsp. olive oil. Sauté garlic until just beginning to brown, about 2 minutes. Add chickpeas, cook two minutes more. Add squash, onion mixture, parsley, remaining olive oil, salt and pepper. Toss well to mix and coat. Add a bit more lemon juice if desired. Top with feta before serving. Yields 4 servings with 245 calories, 10 grams of fat, 7 grams of protein, 27 grams of carbohydrates and 8 grams of fiber per serving.
Also try roasting the halves of the squash in the oven for a richer, caramelized flavor. Simply brush the halves with olive oil, salt and pepper to taste. Roast at 400 for about 45 to 50 minutes. Sauté 1 shallot, minced with 2 cloves of garlic minced in some olive oil. Toss with the cooked squash and sprinkle with some freshly grated parmesan cheese.
[+] add comment