News Taffy
News Article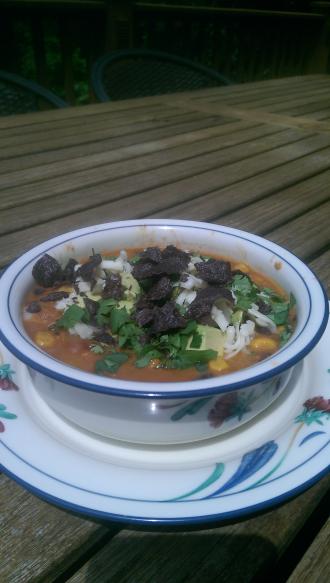 The Cardiologist's Wife - Vegetarian Cooking ... Give It a Try!
When we were first married, my husband would be aghast if I served a vegetarian meal. "There's no meat?" he'd ask, somewhat incredulously. In the summer when fresh vegetables were available, my family often dined on corn on the cob, sliced tomatoes, purple hull peas, okra and yellow squash with some hot cornbread on the side. We simply thought it was fine eating; little did we know we were ahead of our time.
Now there is plenty of scientific evidence that not only should you eat your vegetables like your Mother (or Grandmother) told you to, but that you should eat large quantities of them for better health. It took 20 years of marriage, lots of good cooking, some hard core medical articles and a seminar at the Pritikin Longevity Center to totally convince my husband of the value of vegetarian dinners, but he now embraces meatless meals.
I've learned quite a bit about vegetarian cooking over the last year and now have a growing collection of vegetarian recipes. The most important thing my husband and I have learned is that vegetarian food is delicious and can be very quick to prepare. Take the following recipe that I recently found on Pinterest. I threw all these ingredients in the crockpot in about 20 minutes the other day and let it simmer for 5 hours. the hardest part is dicing the onion, bell pepper and jalapeño, the rest is opening cans. The taste speaks for itself - this is really good and you'll never miss the meat.
This weekend, do something good for yourself and your family - serve a meatless meal. Eating a vegetarian meal once or twice a week will help you lose weight, fill you with plenty of minerals, antioxidants and fiber and reduces your risk for developing heart disease and certain cancers.
Lentil Tortilla Soup
1 onion, diced
1 bell pepper, diced
1 jalapeno pepper, diced
2 1/2 cups vegetable or chicken broth
1 can crushed or diced tomatoes
1/2 cup salsa verde
1 Tbsp. tomato paste
1 15 oz. can black beans, drained and rinsed
1 15 oz. can pinto beans, drained and rinsed
1 cup frozen corn or 1 small can whole kernel corn
3/4 cup dried red lentils, rinsed
1 tsp. chili powder
1 tsp. cumin
1/4 to 1/2 tsp. cayenne
1/4 to 1/2 cup heavy cream or half and half
Suggested toppings
crushed tortilla chips
shredded Jack or cheddar cheese
additional jalapeño peppers
chopped red onion
pico de gallo
diced avocado
fresh chopped cilantro
sour cream or plain Greek yogurt
Chop all vegetables, drain and rinse canned vegetables and measure out spices. Spray the inside of a 6 quart slow cooker and add everything except the heavy cream and suggested toppings. Cover and cook on high for 4 to 6 hours or low 7 to 8 hours. Stir in cream and serve with desired toppings.
Note: I thought the lentils would cook faster but they still took 5 hours in a crockpot on high. You can also cook this soup in a stock pot on the stove, just bring all ingredients to a boil, then reduce the heat and simmer approximately 30 minutes or until the lentils are tender. There is no added salt in this recipe and use no salt added canned goods to lower the salt content further.
[+] add comment