News Taffy
News Article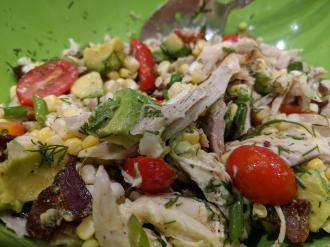 The Cardiologist's Wife - A Quick, Healthy Avacado Chicken Salad Recipe
The last several weeks I've been giving you some nutrition facts to help you understand the importance of feeding your family healthy meals. This week I'm giving you a recipe that will allow you to put a great tasting meal on the table in no time that meets all the requirements I talked about for 3 weeks. This recipe got high ratings for taste from my family plus it can be on the table in about 20 minutes. It's also good the next day for lunch.
First there is lean protein from the chicken breasts, then there are several vegetables and herbs - fresh corn, avocado, tomatoes, green onions or chives and dill. There are heart healthy fats from the avocado and the olive oil. Now for a confession. The original recipe calls for 6 ounces of bacon, cooked and chopped. Bacon along with other processed meats have been linked to a greater risk for developing certain cancers like colon cancer. It is definitely healthier to leave the bacon out. I love bacon but I rarely eat it for that reason. If you really want bacon, look for natural uncured bacon which is nitrate and nitrite free. Keep in mind that bacon is very high in calories so limit the amount you eat. For example 1 slice of Oscar Mayer Natural Thick Cut uncured bacon has 70 calories per slice, 5 grams of fat with half being saturated plus 10% of your daily needs of salt. You can use just a couple of slices to give the salad the flavor you are craving.
You can serve this chicken salad on a bed of salad greens for some extra nutrition or put it in a whole wheat tortilla with some lettuce for a wrap. You can also try using cooked shrimp or leftover cooked salmon in place of the chicken. Whatever you do, don't leave out the dill! I admit I was hesitant about using dill but it gave the salad such a good, unique flavor. Last tip: this would be great to take out to the season opener at ASU this weekend for tailgating. It's going to be hot so this easy cold chicken salad and some icy watermelon is just the right ticket.
Avocado Chicken Salad (From natashasktchen.com)
2 large cooked chicken breasts shredded or chopped
2 large avocados, diced
Corn cut from 1 ear 1 cup or more
halved cherry tomatoes
1/4 cup chopped chives or green onions
2 Tbsp. fresh dill, chopped

Lemon Dressing
3 Tbsp. freshly squeezed lemon juice
3 Tbsp. olive oil
1 tsp. salt
1/8 tsp. pepper

Place chopped chicken, corn, green onion or chives, bacon and dill in a large serving or mixing bowl. Mix dressing ingredients until well combined. Add avocado to salad, pour dressing over everything and toss gently to combine. Makes 6 servings.
Nutrition facts from Natasha: calories per serving - 324, protein - 25 g, fiber - 5g, sugar - 1g, total fat - 20g, saturated fat - 3g.
[+] add comment