News Taffy
News Article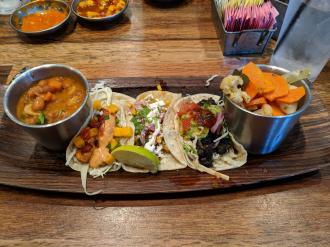 The Cardiologist's Wife - Weekend Getaways are Good for You!
A weekend getaway can be just the ticket for some much needed rest and relaxation. A change of scenery and doing something different can improve your mood and reduce your stress. Learning something new or seeing different sights can spark your creative juices, making you more productive at work when you return. Research shows that a little physical activity during your trip can contribute even more to your overall positive experience. The effects of a trip, even a short one, can start before the trip actually begins as you get excited planning your vacation and last a few weeks afterwards as you savor the memories. Best of all, going with people you care about allows you the time to connect on a deeper level than our hectic day to day schedules allow. All positive benefits that lead to better health.
Shamefully, surveys show that many Americans don't use their allotted vacation time each year. Don't be one of those sad saps. Start planning a trip right now.
So what to do and where to go? You don't have to go far or take a whole week to get these benefits. Sometimes several short trips throughout the year are better than one long trip. My husband and I took a two day trip to Little Rock over the Labor Day weekend and found plenty to do. Here are some ideas to get you started.
Pick a hotel or Airbnb. Little Rock is full of places at every price point. Benefit - you are automatically relieved of all those chores you do everyday at home like making the bed or starting a load of laundry, meaning you get rest and relaxation from the get go.
Pick some things to do, but not too many so you aren't rushing from place to place, creating stress. The Arkansas Art Museum is a quiet place for contemplative thinking plus it is free and never fails to inspire. The Big Dam Bridge is not only beautiful but includes miles of trails to explore along each side of the river so you get exercise and fresh air, clearing your head of nagging thoughts. If history is your thing, visit the Old State House museum, the Historic Arkansas museum or the William J. Clinton library and exercise your brain cells by learning something new.
Pick some good places to eat. Now is the time to try out some new cuisine! Little Rock is filled with great restaurants so skip the chains and give a local establishment a try. Think about focusing on healthy choices by trying a vegetarian dish or some seafood. Skip fried foods and limit desserts to avoid heartburn and extra calories. Perhaps you'll come home with some new ideas to try in the kitchen yourself. Some locally owned places that place an emphasis on fresh ingredients or local produce are Local Lime, The Root Cafe, The Fold or if you are feeling adventurous, Ohia Poke for some authentic Hawaiian poke with fresh fish and vegetables.
So get busy and plan your trip now so you can reap the benefits!
[+] add comment