News Taffy
News Article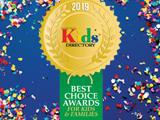 VOTE NOW for the 2019 Northeast Arkansas Kids' Directory Best Choice Awards
It's time for Northeast Arkansas Kids' Directory Best Choice Awards for Kids and Families, and we want your vote!
Click here to cast your vote! https://goo.gl/forms/zNQs9kfk32IjK6iW2
We're asking families across Northeast Arkansas to let us know the people, places, goods and services they like best in Northeast Arkansas. Voting ends at 5 p.m. on Tuesday, February 5, 2019.
Must complete at least 50 percent of ballot (at least 29 categories). Winners will be announced in the March 2019 issue of NEA Kids' Directory. Only one ballot per person.
Multiple ballots submitted by a single person will be disqualified. Good luck and happy voting!
[+] add comment