News Taffy
News Article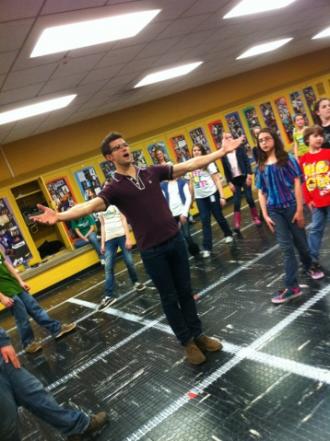 Kyle D. Massey Brings Broadway to Jonesboro's VPA
Jonesboro native Kyle Dean Massey, currently starring in the Broadway production of Wicked, spent Monday entertaining and educating students at Jonesboro's Visual and Performing Arts School. 
Massey, whose Broadway credits include Next to Normal and Xanadu, is cast in the role of Fiyero in the Broadway production of Wicked at Gerschwin Theatre.
In addition to performing eight shows a week, Massey serves as a masterclass instructor and panel contributor for several different organizations including Camp Broadway, Broadway Artists Alliance, Broadway Connection, VIP Tours of New York and the Missouri Fine Arts Academy.
According to his bio, Massey began taking dance classes at age 6 after seeing his older sister perform in a local production of The Nutcracker. Although he spent most of his adolescent years singing in school choirs and studying the piano, it wasn't until his sophomore year of high school that he performed in his first musical. He has now performed in more than 60 productions.
VPA music instructor Elaine Bartee said Massey performed in concert for students and staff Monday morning, and worked with students throughout the day on skills such as auditioning. He concluded his visit to VPA Monday afternoon by working on choreography and music with students who will join him in a performance of One Short Day from Wicked in an upcoming concert at the ASU Fowler Center.
Massey, the son of Dean and Janice Massey of Jonesboro, will be featured when the Arkansas Delta Symphony, conducted by Neale Bartee, presents The Spring Pops Concert "Broadway Comes to Jonesboro II" on April 10 at 2 p.m. Tickets may be reserved by calling 972.ASU1 or online at www.tickets.astate.edu. Admission is $15 for adults, $10 for senior adults and $5 for students. 
[+] add comment