News Taffy
News Article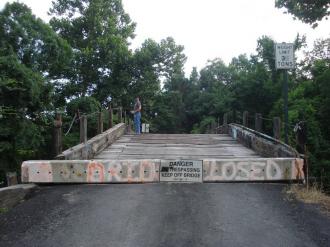 A Guest Blogger Bids Adieu to the Bono Bridge
Guest blogger Rachel Carner, a junior journalism major at Arkansas State University, has lived in Bono since she was 5 years old. Read on as she remembers the Bono Bridge, which was torn down several months ago.
On March 17, more than 100 years of Bono history was demolished in two minutes. Its remnants were taken away in eight truckloads.
The steeply arched Bono Bridge had stood tall above the Burlington Northern Santa Fe railroad tracks since 1882, connecting County Roads 352 and 353 for a shortcut around the city to get on U.S. 63. With its loose, creaky boards spray-painted with graffiti from its previous visitors, the 85-foot-long wooden stringer bridge was a hotspot for teenagers and adults.
However, these days are over, as the "Road Closed" and "Bridge Out" signs on County Road 352 tell the story of what happened to this beloved hangout.
"It was something fun for people our age to do in a town with not a lot of entertainment for us," said Thomas Norris, a senior civil engineering major of Sherwood.
Traci Simpson, a UPD officer and Bono native said, "It was one of those things that you thought would never go away."
While the bridge was technically owned by BNSF, according to local officials, the railway did not inform the public of its intentions of removing the bridge. The report is that a couple of vehicle accidents prompted the closing, with the evidence being the car parts lying around.
This sudden demolition made many locals upset and even angry. These people not only had fond memories of the bridge, but most used the bridge as a convenient way to get on the highway.
Norris said a visit to the "overhead bridge" is like a rite of passage for freshmen at ASU.
"I heard that some people would get under the bridge while the train was passing for that adrenaline rush," he said.
Tonya Ryals, a native of Walnut Ridge, recalled her first visit to Bono Bridge when she was out there with her friends Jessica, Caitlin and Misty: "It was really late (like 2 a.m. or 3 a.m.), and we had all just been hanging out but we were bored. So we went on a perfectly clear night and everything was absolutely silent. To be honest, at first it was rather terrifying because Misty and I had never been there before and did not know anything about where we were. We wanted to wait for a train so we stayed out there for about 30 minutes (luckily it was a cool night, I think it was in September) before one showed up. And it was a long train so we were able to hang off the bridge while it went under us and just enjoyed the rumbling."
A Bono native, Simpson spent time at the bridge as both a visitor as a teenager and patrol for Bono police.
"When I was younger, the group of guys I was with decided to wrap a dummy in aluminum foil," she said. "So, right before the train passed below us, they tossed the dummy over the side, causing the train to screech to a halt because they thought they hit somebody. It was weird being the one who would run to hide from the cops to being the one with the spotlight in hand.
"In a way, I got to live both sides of the story."
Karen Shirley, a Bono native and ASU alumnus, said her school bus in grade school always went over the bridge on its usual route.
"One year though, it snowed really hard during school, so by the time we were leaving the school, the roads were already slick," she said. "So when the bus got on the bridge, the bus slid into the railing. Our parents just met us at the bridge to pick us up that day."
Norris said he remembered one amusing night on the bridge, when he and his friend Kevin posed as police officers by pointing a spotlight at some teenagers on the bridge while ordering them to leave the premises with their truck's PA system. He said they were so scared that they ran away so quickly while he and Kevin laughed away.
According to a website about haunted places in Arkansas, the listing for the Bono Bridge describes how if you stood on the bridge and looked down as the train went under, it appeared as if it was about to hit you before it went under the bridge.
Shirley said she knew of another haunted tale at Bono Bridge. She said if you stood in the center of the bridge at a certain time of the night, you could see a glowing light floating above the tracks.
KAIT News reported in 2010 there was discussion between the county and BNSF saying, "The Department of Transportation has conducted a bridge inspection on the Bono Bridge. From that, they have concluded the rating the bridge received meets state criteria for state funding. This would pay 80 percent and the design for a new bridge." Simpson said she thinks that somebody needs to replace "the landmark," whether it is BNSF or the county. Norris agreed, adding that he "needed something else to stand on at night for a train to go under on those boring weekends."
People who now drive by the stumped roads will see "Road Closed" signs instead of old boards and railroad ties. But those who experienced the Bono Bridge will never forget their time spent standing, sitting and exploring the bridge.
No matter if the bridge will ever be replaced, not even eight truckloads of debris can take those beloved memories of the Bono Bridge away.
(Photo taken on July 5, 2010, before the bridge was torn down on March 17, 2011. Pictured is Glen Cole of Jonesboro.)
Rachel Carner is a junior journalism major at Arkansas State University. She was born in Orlando, Fl. but has lived in Bono since she was 5. She enjoys video games, Japanese cartoons (anime) and cosplay. She has been the online editor for The Herald, ASU's student newspaper. This is an article written for her Feature and Magazine Article writing class at ASU.
[+] add comment