News Taffy
News Article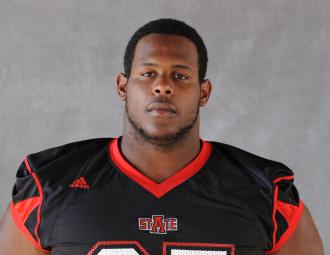 ASU's Carrethers Earns Spot on CBSSports.com's "Freaks List"
Arkansas State senior defensive lineman Ryan Carrethers has earned a spot on CBSSports.com's 2013 "Freaks List," which annually recognizes some of the top college football players in the nation for their ability to amaze their teammates and coaches in various athletic aspects.
Carrethers was among 20 players to make the list, and Bruce Feldman's article included the following excerpt about the Nashville, Tenn. native:
A 2012 First Team All-Sun Belt Conference player, Carrethers certainly seems like he could be a force at any league in college football. The redshirt senior, who will be playing for his fourth head coach this fall, isn't just some sloppy, bad-body guy. His 16 percent body fat for a guy measuring in at 6-2, 332 is impressive. As are his 400-pound power clean, his 664-pound squat and 400-pound incline bench press.
"Ryan was a state champion heavyweight wrestler in Tennessee his senior year, which has translated to him being a fantastic defensive lineman that has started for three years on the championship Red Wolves teams," said Jeff Pitman, Arkansas State's strength coach. "Ryan can more than hang with former all freak team members I have coached. Examples are Daryn Colledge at Boise State and Nate Solder at the University of Colorado. Both [players] have had great NFL careers."
Carrethers started every game as junior in 2012, finishing the season with a career-best 68 tackles that were the sixth most on the team and the most by an A-State interior defensive lineman since Jon Bradley recorded 68 as well in 2002. He averaged 5.2 tackles per game to rank tied for 39th in the Sun Belt, but ahead of all other interior defensive linemen in the league.
Carrethers tallied a career-high 10 tackles against both Memphis and South Alabama. He also had eight tackles, his third most of the season, against Florida International.  He posted at least one stop in all but one game and recorded four or more in 11 outings. Additionally, Carrethers was responsible for 3.5 tackles for loss and a half-sack in two different games.
CBSSports.com's "Freaks List: The 20 Craziest Athletes in College Football"
1. Jadeveon Clowney (South Carolina, DE)
2. Ra'Shede Hageman (Minnesota, DT)
3. Lache Seastrunk (Baylor, RB)
4. Taylor Lewan (Michigan, OT)
5. Marqise Lee (USC, WR)
6. Johnny Manziel (Texas A&M, QB)
7. Dri Archer (Kent State, RB-KR)
8. Benardrick McKinney (Mississippi State, LB)
9. Chris Borland (Wisconsin, LB)
10. Ryan Carrethers (Arkansas State, DT)
11. Travis Swanson (Arkansas, C)
12. Justin Jackson (Wake Forest, OLB)
13. Donte Moncrief (Ole Miss, WR)
14. George Atkinson III (Notre Dame, RB-KR)
15. Colt Lyerla (Oregon, TE-RB)
16. Carl Bradford (Arizona State, LB)
17. James Wilder (FSU, RB)
18. James Gayle (Virginia Tech, DE)
19. Mark Jackson (UTEP, WR)
20. Jay Prosch (Auburn, FB)
[+] add comment