News Taffy
News Article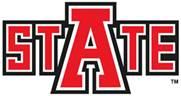 A-State Football Participates in First Official GoDaddy Bowl Functions
The Arkansas State football team made its way to Mobile, Ala., on Wednesday, participating in its first official functions as part of the 2014 GoDaddy Bowl that is scheduled for Sunday, Jan. 5, at 8 p.m.
A-State Director of Athletics Terry Mohajir and interim head coach John Thompson met with the media during a 6:30 p.m. press conference on New Years Day at Ladd-Peebles Stadium, where Mobile Mayor Sandy Stimpson welcomed both teams and presented Mohajir with a key to the city.
"I want to thank the people of Mobile, Mayor Stimpson, (GoDaddy Brand Marketing Manager) David Welsh, (GoDaddy Bowl President) and Jerry Silverstein for selecting Arkansas State and allowing us to come down and represent the Sun Belt Conference as co-champions," said Mohajir. "I know it's going to be a great game, and we've got an outstanding opponent in Ball State."
Thompson also thanked the city of Mobile and all those associated with the GoDaddy Bowl for inviting the team back, but also talked some about the 10-2 Cardinals team the Red Wolves will face in their 2014 season finale.
"Our players are looking forward to all the events leading up to the game, but more than anything we are looking forward to being at our best on Sunday night," said Thompson. "Ball State is a very impressive team that has shown a lot of class and is well coached. It is going to be a great challenge for our team and we're looking forward to a great game and a great crowd."
Following the press conference, the Red Wolves and Cardinals both participated in a team welcome reception just outside Ladd-Peebles Stadium. The players, coaches, administration, media representatives, Mobile city officials and invited guests all enjoyed a southern-style shrimp boil that was immediately followed by an entertaining "Game Show Night."
On Thursday, A-State began its schedule with meetings before holding its first practice in Mobile at the University of South Alabama practice facility. A-State also visited the University of South Alabama's Children's and Women's Hospital, taking time to take pictures and visit with the patients while delivering gifts.
Also on Thursday, the GoDaddy Bowl hosted an official "Team Night," where both squads enjoyed a night of fun and entertainment at the Eastern Shore Lanes in Spanish Fort, Ala. The Red Wolves and Cardinals competed in a bowling challenge, among other events.
[+] add comment