News Taffy
News Article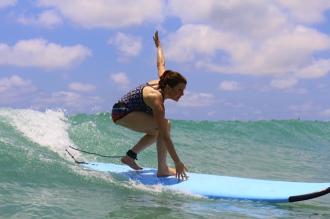 Southerner and the City - Surf's Up!!
When was the last time you did something that left you feeling totally alive and energized? I'm not talking about the high you get after a great work out or an amazing frolic with your sweet heart, either! I'm talking about a pure adrenaline rush that left you screaming like a football player that just scored the winning touchdown in the Super Bowl. Can't remember? Maybe it hasn't happened yet? It happened to me in May. On a surf board in Mexico.
I'd committed to a surf lesson as part of our first video shoot for the travel show Meet Me There with Exclusive Resorts. We penciled in the lesson along with the rest of the itinerary and I didn't give it another thought really. Weeks later, the reality of what I'd agree to do was beginning to set it. I'd began to question my decision.
I couldn't back out. I had the instructor from Wildmex Adventures and his photographer booked. Not to mention my production team of three from the Denver office was along for the trip too. And let's not forget about my ego! I said I wanted to do and I was going to have to deliver.
There comes a point in time when you have to face your fears head on. The day of my surf lesson was one of those days. I'd spent the morning hanging out in Sayulita at Pachamama - a fantastic shop owned by the gypset guru Natalie. We'd been chatting about life, love, passions, black Tahitian pearls, bird feathers and a whole lot of other random things. Now that I think about it, we had a really amazing conversation - which I'll share with you at a later date.
I was in a very inspired state of mind when I was whisked away to the beach for the surf lesson. Before I knew it, I was on the beach, practicing my moves surrounded by thousands of sea shell left lying on the beach. It was like scene out of a movie - but without a body double to do my surfing! The next think I knew I was paddling out to sea and catch a wave. My fear was still there, but wasn't dominating my thoughts.
My instructor gave me some brief pointers, told me to get on the board and look for the beach. We waited on the wave, I started paddling, he gave me a push and bam - I was up! And then I was in the water. The first attempt didn't go as planned.
The second time I knew I HAD to deliver. The pressure was on! My camera man, Henry was on the beach, seriously encouraging me to deliver the goods as he was starting to get a sunburn! This is what happens when you take an Alaskan to Mexico and put him on the beach for an hour. He gets sunburned!
We waited again for the wave, I channeled some yoga breathing and put a smile on my face. I was on camera after all. I started the paddling again, got a little push and was up on the board in no time. I did it! And managed to keep a smile on my face. Not only because of the camera, but because it was such a huge rush! My fear was gone. You can see the video for yourself in the YouTube link.
If you can't make it to the beach for a surf lesson, find something else that gets you out of your comfort zone. Give it a try and let the internal magic unfold. Next time, when you're having a bad day or things aren't going as planned, take yourself back to that moment and tap into that energy. That's the real joie de vivre right there!
Keep up with DJ and her adventures by signing up for her blog at www.iamdjduckworth.com Like her Facebook page at I Am DJ Duckworth. Follow her on Twitter @mrsdjduckworth She posts some amazing photos on Instagram @djduckworth. DJ lives in Manhattan with her son, Corbin and their amazing wiener dog, Leo.
[+] add comment