News Taffy
News Article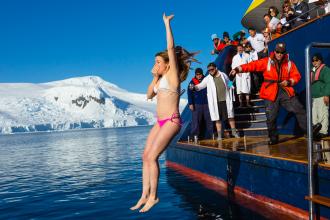 Southerner and the City Takes on Antarctica!!!
Have you ever ran out of adjectives to describe something truly amazing? I recently had that problem on my trip to Antarctica. I should have been issued a citation for the overuse of the words "wow", "amazing" and "fantastic". All of these words perfectly described the things I was seeing and at the same time weren't enough to adequately make my point! What I've decided is that sometimes in life words don't do justice to an experience.
As a journalist, I know the power of a photos place in telling a story. But even better than a photo is video! I made the trip to the bottom of the world with my film maker friend Henry McComas. He and I were thrilled to have so much scenery, wildlife and people to work with for the story. The problem in the end was how to edit it down and tell one story. We ended up with enough video that we can produce a five part series on Antarctica - and may do just that soon!
Over this last year, I've worked as brand ambassador for Exclusive Resorts. We traveled to a lot of beautiful places shooting episodes for Meet Me There. The project has been a dream come true for me. Being able to travel, meet people and tell stories about the experience is exactly what I wanted to be doing. I'm beyond thrilled to share Meet Me There - Antarctica with you. You can see the episode here in the YouTube link:  https://youtu.be/9lrO2HmF0-k
Some of you may have zero interest in ever traveling and seeing the world. I'll let this story show you what the bottom of world looks like outside of your hamlet. For those of you who don't let much grass grow under your feet like myself, you can add Antarctica to your bucket list of places to see! I've checked four continents off of my list and can't wait to share stories from the other three in the coming months and years.
Follow DJ on Facebook at I Am DJ Duckworth and on Twitter @mrsdjduckworth She posts some funny and often times silly selfies on Instagram @djduckworth when she's not trolling fashion blogger posts. You can see more Meet Me There episodes on her YouTube channel I Am DJ Duckworth. DJ lives in New York City with her son Corbin and the world's most stubborn dachshund, Leo - woof woof!
[+] add comment