News Taffy
News Article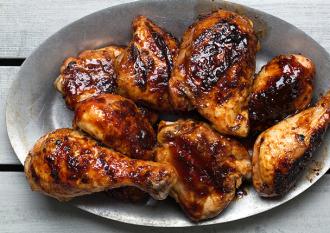 The Cardiologist's Wife - Spicy Chicken Recipe
There's just something about a home cooked meal lovingly prepared by someone else that makes me feel special. This past weekend, I was treated to a nice meal prepared by my husband and son in honor of Mother's Day. We've used the same old tried and true marinade for years which we love but this may be our new favorite because you can just sprinkle on a rub and get right to grilling. Sometimes I forget to put the marinade on the meat soon enough to truly flavor the meat. To complete the meal, we had a medley of roasted vegetables and a nice green salad.
If you do a little advance planning, whipping up a tasty meal doesn't have to be hard. Start with the menu, once you have that, you can prepare a grocery list. If you are cooking for a special occasion like Mother's Day or a dinner party, do anything in advance that you can do, like marinate the meat or prepare a dessert. That way, cooking the day of won't take so long. Here is the menu that got rave reviews from my family.
Spicy Chicken Rub
2 tsp. paprika
1 tsp. cumin
1 tsp. thyme
3/4 tsp. salt
1/2 tsp. garlic powder
1/2 tsp. black pepper
Mix all spices. Remove chicken skin and sprinkle liberally with spice mixture. Grill as you usually would. This is enough to season 10 to 12 chicken legs, thighs or 8 breasts.
2 Tbsp. red wine vinegar 1 Tbsp. honey Mix together and brush on chicken while it grills.
Keep everyone's good health in mind and serve a simple side dish of mixed roasted vegetables. Roasting vegetables brings out a wonderful, rich flavor. If the kids are old enough, get them involved in the cooking and let them peel and chop the veggies while Dad is in charge of the grilling.
Herbed Roasted Vegetables
2 medium sweet potatoes
2 to 4 small beets
1 medium to large yellow onion
4 to 5 medium carrots
fresh basil leaves
1 tsp. each salt and pepper
1 tsp. thyme
1 tsp. garlic powder
1/2 tsp. rosemary
2 Tbsp. olive oil
Heat oven to 425. Spray a large baking dish with baking spray, set aside. Wash and peel the potatoes, beets and carrots; cut into bite sized chunks. Peel onion and cut into small wedges. Place all vegetables into the baking dish, sprinkle with the spices and drizzle with the olive oil, tossing to coat. Bake 30 minutes, stir veggies again and bake another 20 to 30 minutes until veggies are tender when pierced with a fork and lightly browned. Cut basil into thin strips and sprinkle over veggies.
To keep things simple and control the calorie count, serve some fresh berries mixed with a little sugar and a big dollop of fresh whipped cream flavored with cinnamon for dessert. Strawberries are in season right now and you can always find blueberries and raspberries in the grocery store. There are about 65 calories in a half cup of whipped cream while 1/2 cup of vanilla ice cream has about 130.
[+] add comment