News Taffy
News Article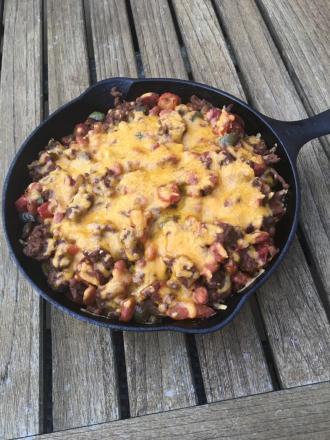 The Cardiologist's Wife - Heart Healthy Recipe for Tamale Pie!
When you are trying to stick to a healthier diet, it may seem like there is nothing really good you can eat and you end up feeling cheated and frustrated. Mexican food with lots of chips, sour cream and ooey, gooey cheese may seem out of the question but you can usually tweak recipes so that they are better for you while still satisfying your craving.
Take tamale pie with cornbread crust for example. You could substitute non fat plain yogurt for the full fat sour cream (yogurt tastes better than non fat sour cream) and cut two cups of cheese back to one cup. If you use a strong tasting cheese, like sharp cheddar instead of mild, you won't notice the difference. Make sure you select the leanest ground meat, whether you choose turkey or beef and drain it well after browning to get rid of even more fat. Next add extra vegetables to the mix. My version has fresh cilantro, one onion, one bell pepper, one diced avocado, green onions and one 16 ounce can of diced fire roasted tomatoes. Skip the chips this time as they are loaded with salt and empty calories. I also add a drained can of pinto beans for more protein and fiber. If you'd like to save yourself even more calories, forgo the cornbread crust and just use refried beans for the bottom. A one eighth serving has about 400 calories.
Tamale Pie
Crust
1 box Jiffy corn muffin mix
1 egg
1/2 cup non fat plain yogurt
1/2 cup creamed corn
Heat oven to 400. In a medium bowl, combine all ingredients and stir till just combined. Pour into a large cast iron skillet that has been lightly sprayed with cooking spray. Bake 20 minutes or until lightly browned. Poke top serval times with a fork.
Pie Filling
1 lb. ground beef or turkey
1 onion, diced
1 bell pepper, diced (sub poblano if you prefer or add jalapeño for heat)
2 cloves garlic, minced
1 16 oz. can diced tomatoes, preferably fire roasted for flavor
1 can drained and rinsed pinto beans
1 Tbsp olive oil
1 1/2 tsp. cumin
1 tsp. oregano
2 tsp. chili powder
1 tsp. pepper
1 tsp. salt
1 cup shredded cheese, your choice
1/2 cup chopped fresh cilantro
1 avocado, diced
3 or 4 green onions, sliced
Heat olive oil in a large skillet over medium high heat. Sauté onions and bell pepper until just starting to brown, about 5 minutes. Add ground meat and sauté until meat is cooked through, adding garlic near the end. Drain well. Add tomatoes with juice, beans and spices and simmer 5 to 10 minutes. Top cornbread with meat mixture and shredded cheese. Cover with foil and bake until the cheese is melted, about 20 minutes. Top with cilantro, green onions and diced avocado.
NOTE: Always read your recipe through and make sure you have the key ingredients, don't just assume you have them. Also make sure you have the correct sized dish. I accidentally used a smaller pan and couldn't fit all the meat filling on top. It was still darn good despite a few mishaps.
[+] add comment