News Taffy
News Article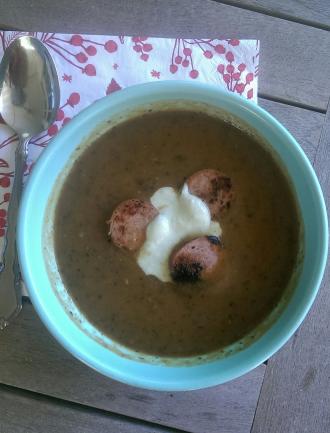 The Cardiologist's Wife - Fall Soup Recipe!
It's been an unusually hot fall so far but I'm hoping the weather is moderating into more seasonable temperatures. I'm ready for some fall cooking and at our house, that means soup! Soup is just the ultimate comfort food for me. Few things are as satisfying as a bowl of hot soup on a cold night. Best of all, many soups are chock full of good for you ingredients like fiber, vitamins and other antioxidants. This soup was a winner at our house last year and got high ratings from friends and family. It's easy to make, rich and satisfying and can be easily doubled for a crowd. I think it has just the right amount of spicy heat to make it interesting.
Many people love pumpkin in foods like muffins (or at least they like pumpkin spice scented or flavored things which actually have no pumpkin in them!). One cup of pumpkin has only 49 calories but has 245% of your daily need for vitamin A, 19% for vitamin C, 10% for vitamin E, 16% for potassium and 11% each for copper and manganese. In case you didn't know, vitamin E boosts the body's immune system and helps keep your blood from clotting within your blood vessels. Copper is more than a pretty metal; we need copper in our diet because it helps make red blood cells, keeps nerve cells and our immune system healthy. Manganese is necessary to help regulate blood sugar, form connective tissue and strong bones.
It is so important to remember how much our body needs the vitamins, minerals and fiber found in fruits and vegetables to do it's job properly. You don't have to understand exactly what they do, just include them in your daily diet for optimal health.
Spicy Pumpkin Soup with Smoked Sausage and Avocado Cream
1 onion, diced
3 Tbsp. olive oil
1 1/2 tsp. salt
2 garlic cloves, minced
1 Tbsp. cumin (yes a whole tablespoon)
1 29 oz. can pumpkin
6 to 6 1/2 cups reduced sodium chicken broth
1 canned chipolte pepper finely minced plus 1 Tbsp. adobo sauce
1 avocado, diced
1/2 cup whole buttermilk
2 Tbsp. fresh lime juice
8 oz. smoked sausage, sliced
1 can black beans, drained and rinsed
1/2 tsp. smoked paprika
Heat 2 Tbs. olive oil in a large soup pot. Sauté onions with 1 tsp. salt until lightly browned. Add cumin and garlic and cook 2 minutes more. Stir in pumpkin, chipolte pepper, adobo sauce and 6 cups of broth. Increase heat and simmer 12 minutes, stirring occasionally.

While soup simmers, place avocado, buttermilk, lime juice and 1/2 tsp. salt in a blender and process until smooth. Refrigerate until dinner.

Cook smoked sausage in 1 Tbsp. olive oil over medium heat until lightly browned. Set aside. Add black beans and paprika and cook 1 minute to heat thoroughly. Using an immersion blender, process soup until smooth. Serve soup topped with slices of sausage and a dollop of avocado cream.
[+] add comment