News Taffy
News Article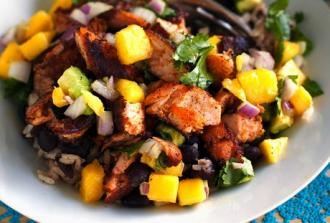 The Cardiologist's Wife - Caribbean Bowl Recipe
Since there are just two of us living at home now, I often look for something simple to cook for dinner that doesn't make a lot. My husband and I love leftovers but eventually we do get burned out eating the same casserole after 2 nights and 2 lunches. "Bowls" or meals of mixed fruits, veggies, grains, herbs and meats served together in a bowl, are popular right now for good reason. They are easy to put together, tasty and satisfying. You can find a bowl recipe for any type of cuisine you are craving - Mexican, Asian, Italian, etc. You are only limited by your imagination. Typically bowls are healthy combinations of fresh vegetables, some type of grain, and seasonings. Meat is optional.
The following Caribbean bowl calls for brown rice but you can substitute quinoa or even riced cauliflower, making it a better choice for diabetics trying to avoid simple carbohydrates like rice and pasta. You can toss the ingredients together like I did or you can arrange your ingredients on top of your choice of grain to make a pretty presentation. Bowls are good warm or cold right out of the refrigerator, meaning leftovers are great for lunch the next day.
If you don't enjoy meatless meals, either add meat to the dish or use the bowl as your vegetable side dish. Bowls are full of vitamins, minerals and fiber from all the fresh fruits and vegetables so you can feel good about serving them to your family. If you are interested in other bowl recipes, check out "25 Super Healthy Bowl Recipes" on the website foodiecrush.com. I can't wait to try some of the bowl recipes on this site, like the Peanut Butter and Jelly Breakfast Bowl or the Cuban Chicken and Black Bean Quinoa Bowl with Fried Chili Spiced Bananas. Note: if you visit the site, please don't compare my photographic attempts with the photos of decadent looking food you'll find there but do try a bowl recipe!
Caribbean Bowl
1 cup brown rice
1 can black beans, drained and rinsed
6 oz. shredded kale or baby spinach
4 oz. crumbled queso fresco
one mango, diced
one avocado, diced
chopped fresh cilantro
3 or 4 green onions, sliced
chopped cooked chicken or cooked shrimp, optional
juice of one lime
1 Tbsp plus 2 Tsp. olive oil
1 clove garlic, minced
salt and pepper
Cook rice according to package directions. Brown rice takes up to an hour to cook so plan accordingly. When rice has cooked about 45 minutes, prep the rest of the food. Add 1 Tbsp. of olive oil to a large non stick pan and heat over medium high heat. Quickly stir fry the kale or spinach until just wilted but still bright green. Remove from heat and season to taste with salt and pepper. Thoroughly mix lime juice with 2 tsp. of olive oil and the minced garlic. Place cooked rice in a large serving bowl. Top with other ingredients. Pour lime juice mixture over the top and toss gently. Season with salt and pepper to taste.
[+] add comment