News Taffy
News Article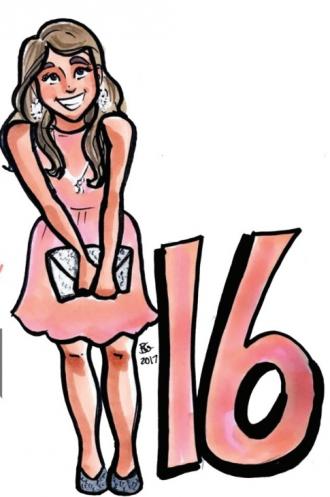 The Occasions Lady and The Last of the Sweet Sixteens
It's hard to believe, but Nov. 1 marks a milestone in our family. Our youngest, Sophie, turns 16. For us, it is officially the last of the Sweet 16s.
Like most teenagers, it is the birthday that Sophie has anticipated most. While we are all excited to celebrate her big day with her, I also think reaching this milestone calls for some sort of finisher's medal for me.
For nearly 25 years, I have enjoyed being a mom. There is nothing on earth that I cherish more than my kids. Like other moms, I get nostalgic from time to time and wish that they were all still little and living at home. I have to admit, however, that I am a little giddy about retiring this mom's shuttle service. Twenty-five years is a long time to drive people around.
Fortunately, I was self-employed for the most part when my kids were young. I was able to pick them up from school and bring them home at the end of the day. That was an incredible blessing because most of that time, they were at three different campuses. Without a doubt, the most challenging school year for me as a parent was the year Adam became a sophomore at Jonesboro High School, Emma started seventh grade at Annie Camp Junior High School, and Sophie started first grade at Visual and Performing Arts Magnet School. That was also my first year as a single parent. Despite the challenges, no one got left behind in the three-school shuffle and we all survived.
When Rodney and I married in 2011, he volunteered to help with shuttle duties. Since then, not only has he transported kids at all hours of the day, he also serves as the go-to mechanic for the kids. When dead batteries need a jump, tires go flat or someone straddles a culvert in front of San Francisco Bread Co., it's usually Rodney's phone that rings. For that, I am very thankful.
While it doesn't seem possible that Sophie turns 16 this month, we've watched her grow into a beautiful young lady who is smart, funny, caring, independent and her own kind of quirky. She is also busy. Whether it's church, school, cheer practice, football games, basketball games, tumbling lessons, swim practice or a movie with friends, she has definitely done her part to keep us on the move over the years.
As of this month, the last bird in the nest is old enough to drive, and that makes this occasion the sweetest Sweet 16 of all.
[+] add comment