News Taffy
News Article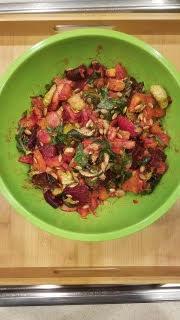 The Cardiologist's Wife - Buddha Bowl Recipe!
Over the last year or so, "bowls" have become tremendously popular yet somewhat trendy menu items. Buddha or hippie bowls are usually vegan dishes filled with some combination of raw or roasted vegetables, herbs, greens, grains, seeds, nuts and dressings. Some do include meat. I have included bowls in my posts before because I love them. No matter how you define them, a bowl is a convenient way to eat a nutritious and tasty meal. This week I may have found my absolute favorite bowl recipe, that is until the next delicious bowl comes across my table.
If you want to include more vegetables in your diet, this is the way to do it. The best part is you can add or subtract vegetables based on what you like but I challenge you to try to expand your palate. Two things make this recipe more than just a bowl of vegetables: roasting which brings out an incredible flavor that other cooking methods fail to produce and the tahini dressing. Tahini is a paste made from sesame seeds and used to make humus. Tahini is high in heart healthy fats, amino acids and is a pretty good source of vitamins and minerals. And unlike other sweeteners like sugar and pancake syrup, pure maple syrup also contains many important nutrients like zinc and manganese. My family really, really loved this dish.
This recipe isn't difficult but does involve a lot of peeling and chopping so it wouldn't be good for a quick meal. However if you double it like I did, you'll have extra for lunch or another dinner later in the week because this was good warmed over. Another tip, you might want to roast some things in a separate dish as the red beets bled over the rest of the vegetables, making it a pinkish dish. It would have been nice to see all the colors.
Roasted Root Vegetable Buddha Bowl with Maple Cinnamon Tahini Dressing
1 large sweet potato, peeled and chopped into 1/2 inch cubes
2 large parsnips, peeled and sliced into 1/4 inch rounds
2 medium beets, peeled and chopped into 1/2 inch cubes
Olive oil
10 oz. kale, stems removed and torn into bite sized pieces or use baby kale
small bunch of Brussel sprouts, halved
1 large zucchini, sliced into 1/2 inch rounds
1/4 cup pepitas seeds, toasted
Maple Cinnamon Tahini Dressing
1/4 cup plus 2 Tbsp. tahini
1/4 cup water
1 Tbsp. fresh lemon juice
2 Tbsp. real maple syrup
1/2 tsp. cinnamon
1/4 tsp. salt
Preheat oven to 400. Arrange sweet potato, parsnips and beets on a large baking sheet in a single layer. You may need two baking sheets. Drizzle with olive oil and sprinkle with salt. Roast for 30 to 40 minutes or until soft and lightly browned. Place zucchini and Brussel sprouts on a separate sheet, drizzle with olive oil and sprinkle with salt. Roast about 10 to 15 minutes or until softened and lightly browned. While vegetables cook, prepare the tahini dressing. Add all ingredients to a bowl or measuring cup and whisk until well blended. When vegetables are almost done, heat two teaspoons of olive oil in a medium skillet. Add kale and sauté briefly till just wilted. Or if you prefer, you can use the kale raw. To serve, add all vegetables to a large bowl, add the desired amount of dressing and gently toss. Sprinkle with pepitas.
Serve this as a vegan meal by itself or as a side dish with chicken, pork or salmon.
[+] add comment