News Taffy
News Article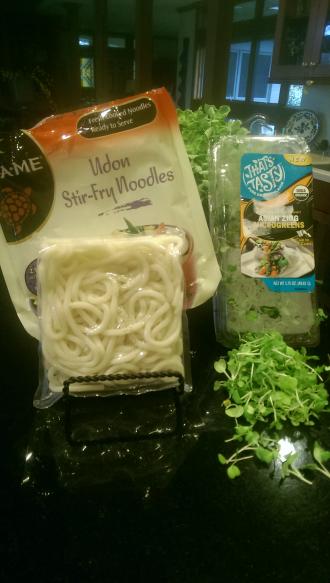 The Cardiologist's Wife - Healthy Asian Food at Home (with Recipe)
Growing up, I thought it was a big treat to have La Choy Chicken Chow Mien topped with those crispy noodles. That was as close to Asian cooking as it got back in the late 60's and early 70's in small town USA. Later, I graduated to eating Chinese food in restaurants but it was very Americanized which is a shame because as is the case with many ethnic foods, Asian food usually features many lovely vegetables and fresh herbs. Who decided that Americans don't like or need vegetables? The food industry of course which profits from selling mass produced artificial food like substances. But I digress.
I always felt intimidated about trying to cook authentic Asian food. There just didn't seem to be any recipes or cookbooks available. Slowly that changed as Asian food began to infiltrate American culture. Now everyone loves sushi and has at least tried to eat with chopsticks. I have found many Asian influenced recipes that are very simple and quick to prepare any night of the week. The following recipe can be on the table in about 30 minutes.
Try topping each serving with 1/2 cup of microgreens. Turns out that microgreens (which are basically the tiny seedlings of salad greens or vegetables like spinach, arugula or beets picked just after the first leaves have developed) are packed with antioxidants and other nutrients. Microgreens actually have more nutrition than the mature leaves but of course, you'd have to eat a pretty hefty amount. Still they are a nutritional and flavorful addition to salads, wraps or your favorite bowl dish.
Noodles With Peanut Basil Sauce
2 cups fresh snow peas,
washed, trimmed and cut in half diagonally
1 cup matchstick carrots
1 package fresh mushrooms, thinly sliced
1 cup fresh basil, torn or snipped into strips
8 ounces noodles, try udon or use fettuccine
1/2 cup light coconut milk
3/4 cup vegetable or chicken broth
1/3 cup peanut butter
3 Tbsp. light soy sauce
juice of 1/2 lime
1 clove garlic, minced
3/4 tsp. ground coriander
1/2 lb. thinly sliced chicken breasts or use leftover chopped cooked meat like pork or shrimp
Crushed red pepper or microgreens, optional
Heat 2 Tbsp olive oil in a large non stick skillet over medium high heat. Cook chicken breasts a few minutes per side until lightly browned. Slice into strips, set aside on a plate and keep warm. If using uncooked fettuccine noodles, bring a large pot of water to boil. Cook pasta according to package directions, drain and set aside. If using udon noodles, skip this step. Add 1 Tbsp. olive oil to the large non stick skillet and again heat over medium high heat. Add the mushrooms and cook 3 minutes, stirring frequently. Add the carrots and snow peas and continue to cook 5 to 7 minutes more until softened. While veggies cook, whisk together the broth, coconut milk peanut butter, soy sauce, garlic and lime juice; microwave a few seconds so the peanut butter blends better. Pour sauce over vegetables and sprinkle with coriander and red pepper if desired. Add udon noodles, breaking them apart with your hands, and the sliced chicken or cooked shrimp. Heat through. Sprinkle with fresh basil and microgreens just before serving.
[+] add comment