News Taffy
News Article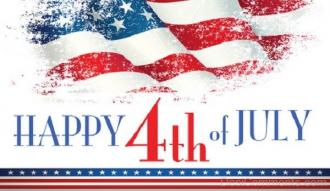 Your Guide to the Fourth of July in Jonesboro
Unfortunately, not every Fourth of July falls close to the weekend resulting in a three-day weekend. If this year's mid-week holiday has you sticking close to home, here's a brief guide to local Independence Day celebrations.
4th Fest
Join East Arkansas Broadcasters, Ashley HomeStore and Bayird Auto Group as they kick-off 4th Fest beginning July 3. The fun begins Tuesday night with a free fireworks show at Joe Mack Campbell Park, 3021 Dan Ave., at 9 p.m. Bring your family and friends and enjoy what this show has to offer.
Festivities continue Wednesday, July 4, with the second annual "Red, White and Blue Color Run" taking place at Joe Mack Campbell Park in Jonesboro. This is an untimed race for the whole family to enjoy where participants get doused in patriotic-colored powder. Registration for the run/walk will start at 8 a.m. and the race will begin at 9 a.m. The cost to participate in the run is $10 per person. Proceeds from the run will benefit our local heroes at the Jonesboro Fire Department.
For more information on the fireworks show and color run, call East Arkansas Broadcasters at (870) 934-5000 or visit http://kissjonesboro.com/4th-fest/.
Feline Freedom Adoption Frenzy
Celebrate Independence Day by adopting a new best friend at the Northeast Arkansas Humane Society. NEAHS will host its Feline Freedom Adoption Frenzy during regular business hours, 11 a.m. to 4 p.m., on July 3. There will be a special adoption rate of only $50, which includes a cat that has been spayed or neutered, has been microchipped and has its shots. For more information on the event, call the NEA Humane Society at (870) 932-5185.
2018 Freedom Fest
Jonesboro Radio Group and KAIT will host its annual Independence Day event, Freedom Fest, beginning at 9:30 p.m. at Southside Softball Complex, 5003 Stadium Blvd.
The event consists of a fireworks show with concessions available prior to the show at the Miracle League Field concession stand and scattered through the parking area. Parking for the event is admission free and will be available starting at 7 p.m. After the show, Jonesboro Police Department will direct traffic out of the area. There will be no personal fireworks allowed on the property; tickets will be issued.
For more information on this event, call Jonesboro Radio Group at (870) 933-8800 or visit http://jonesbororadiogroup.com/2018/06/11/jrg-announces-2018-freedom-fest/.
A-State Library Tower Lighting
The Dean B. Ellis Library clock tower at Arkansas State University will be lighted in alternating red, white and blue tonight, July 3, and Wednesday night, July 4, in observance of Independence Day. It's not fireworks but it might make a cool background for a patriotic selfie! Wolves up for Independence Day!
[+] add comment