News Taffy
News Article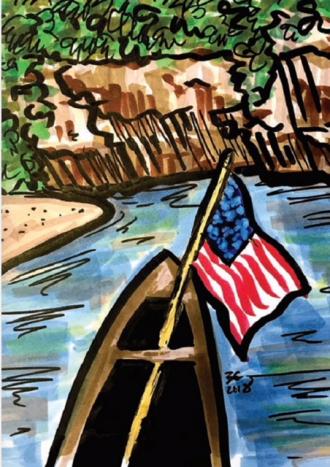 The Occasions Lady and A Patriotic Float Trip
When my friend, Lynn, and her husband, Brad, planned a float trip down the Buffalo National River last summer, several of us quickly decided it was a good time to mark the adventure off of our bucket list. Most of the details had already been arranged so all we really had to do was find lodging near Yellville and reserve canoes.
It was a spontaneous decision but culminated in a three-day Fourth of July celebration that we will always remember. Our inaugural float trip down the Buffalo included two of my longtime friends and their husbands, Lynn and Brad Howerton and Shawna and Blake Barber, and Rodney and me. Although somewhat skeptical, our then 15-year-old daughter, Sophie, and her friend, Isabella, agreed to join us on the float trip.
To avoid a multitude of people, we opted for a patriotic float the weekend before Independence Day. I brought flags for the canoes, everyone dressed in river-worthy patriotic attire and Blake purchased straw hats for the guys. Although it was raining early in the day, once we to the river the clouds soon gave way to blue skies. Before heading out for our one-day canoe trip from Dillard's Ferry to Rush, we took a group photo with our flags and the Arkansas Game and Fish officer.
Here are a few of the lessons our group learned during our first float down the Buffalo:
• Dillard's Ferry is a great place to put in on the Buffalo, but it is also a good place to enjoy the scenery, fish or merely play around in the water.
• The river was swift in a few areas along the stretch of the lower Buffalo that we floated, but was slow moving and easy to navigate for the most part.
• The sculptured bluffs that line the river are beautiful. If you want photos, buy a waterproof dry bag for your phone or camera. You can take photos without removing it from the bag.
• They are serious about keeping the Buffalo free of trash, one of the reasons that it remains pristine and beautiful. Outfitters make sure each boat is equipped with a mesh trash bag that is tied to the boat.
• Pack a lunch, snacks and water/beverages. There are plenty of sandbars along the river that are great for picnics. If you stop frequently, it may take six hours to complete an 8-10 mile float trip. You will get hungry and thirsty.
• Swimming holes. Unlike Spring River, the temperature of the Buffalo is not as cold but if the sun is out, you will want to stop several times along the way to play around and cool off. During summer months, the average water temperature is between 76 and 80 degrees.
• Our final destination and take out point was Rush, a historically protected ghost town where zinc was mined. Remnants of the industry that once dominated the area can still be seen in Rush.
We were fortunate to be able to have such a memorable float trip on the Buffalo last year to celebrate America's birthday and hope to return soon. Arkansas is blessed with beautiful lakes, rivers and parks. This July, call a group of friends, put on your finest (or cheesiest) patriotic attire and celebrate!
[+] add comment