News Taffy
News Article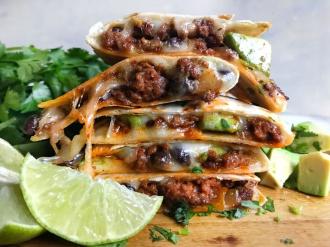 The Cardiologist's Wife - Quesadilla Ideas!
When it's hot like this, I scarcely want to eat, much less heat up the oven or stove top. But when the family asks "What is there to eat?", your reply should be, "Knock it off, Napoleon! Make yourself a dang quesadilla!". In honor of Napoleon Dynamite and hungry families everywhere, today I'm posting some ideas for fast and healthy quesadillas that don't require much work or cooking time.
First, start with some uncooked flour tortillas. These taste much fresher hot out of the pan than the precooked ones and they cook in just seconds in a hot skillet. Next, forget about your typical Tex Mex options and use your imagination. With fresh fruits and vegetables available right now, it's no trouble to whip up some gourmet quesadillas to tempt your taste buds. The next time you grill some chicken, beef or pork, cook extra to use in quesadillas another night. Throw some extra vegetables on the grill to use as well. You can also use purchased cooked meat from the deli in a pinch. Now for some ideas.
Last weekend, I got fresh peaches from the farmer's market so I made peach, chicken, goat cheese and avocado quesadillas. Some cilantro and thinly sliced red onion would have been a nice addition. Continuing with the farmer's market idea, if you don't have grilled vegetables leftover, cook some sliced zucchini, yellow squash, onion and mushrooms in olive oil over medium high heat until tender and lightly browned. Fill your quesadilla, add some Monterey Jack or Fontina cheese and brown on both sides.
If you want more Tex Mex flair, try spreading the cooked tortilla with enchilada sauce, topping with some chopped bell pepper, chopped tomatoes, black beans, some cooked meat if you have it and your favorite cheese. Top with a dollop of sour cream.
One of my favorite vegetarian options is sweet potato and black bean quesadillas. Simply microwave a sweet potato until fork tender. Scoop out the insides and coarsely mash with a fork, mixing in a dash of cumin and salt. Spread some mashed sweet potato on half a tortilla, top with a spoonful of canned black beans that are well drained, sprinkle with chili powder and top with Jack Cheese. Grill until toasty in a skillet.
For those of you who aren't allergic to shellfish, try the following Spicy Shrimp quesadillas. Get 1/2 pound cooked shrimp, peeled and ready to eat (Kroger will be happy to cook your shrimp). Make your favorite guacamole and add some finely chopped jalapeño and/or a chopped chipolte pepper. To assemble the quesadillas, spread some guacamole on a tortilla, top with some shrimp, mango slices, halved cherry tomatoes, chopped fresh cilantro and grated Monterey Jack cheese. Grill until both sides are toasty, adding a squeeze of lime for extra flavor.
Quesadillas are so easy, even a child or the most inept adult can cook up a satisfying lunch or dinner. Don't stop with these ideas, make up your own combinations. Serve with some cold fresh watermelon or cantaloupe slices.
[+] add comment