News Taffy
News Article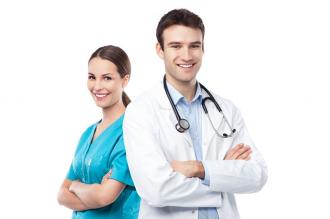 The Cardiologist's Wife - Seeing a Nurse Instead of a Doctor
Recently I had a sore throat, cough, congestion and fever so I called the doctor. No one could see me anytime soon so I was directed to urgent care where I saw an advanced practice nurse instead of a doctor. In today's healthcare system, this is becoming more common.
Nurses are the heart of the healthcare system and crucial to providing successful, coordinated treatment to patients. Nurses tend to the sick, aid in recovery, counsel patients and family members, follow up with patients after they go home and provide health education. If you have spent any time in a hospital or visited a doctor's office, you have come in contact with at least one nurse. What you may not be aware of is the changing roles nurses play in your health care these days.
It is helpful to understand the different kinds of nurses and the role they play in providing quality health care. Each type of nurse has different education and licensing requirements. Licensed practical nurses (LPNs) help registered nurses and physicians by taking or monitoring vital signs, monitoring patients and providing basic bedside care for hospital patients such as bathing, dressing wounds and collecting samples for lab tests. They always work under the supervision of an RN or a physician.
Registered nurses (RNs) gather patient histories, perform and analyze lab work and other tests, administer various treatment and medications. They may work with patients and their families to educate them about their condition and treatment plan. RNs usually specialize in different areas; for example, they may work exclusively in intensive care, trauma or hospital administration. To transfer to another area, they require additional training. The key difference between an LPN and an RN is that RNs are more involved in determining the course of a patient's care and act as a supervisor for LPNs.
Advanced Practice Nurses (APNs) have attained a master's degree in nursing and fulfilled the state requirements in terms of clinical hours and completed the advanced practice certification exam. APNs function with a greater degree of autonomy than an RN. They can see patients in clinic and prescribe medications. With rising costs and a shortage of physicians in many parts of the country, APNs play a vital role in providing healthcare.
Nurse Anesthetists work under the supervision of an anesthesiologist, providing pain assessments and administering anesthesia during surgery, invasive diagnostic tests and childbirth. While not common in Arkansas, Nurse Midwives provide gynecological and obstetrical care for their patients along with prenatal care and delivery.
I spoke with two local nurses, Joanne Woodward and Kari Arroyo, and here is what they wish all patients would do in order to get the best care possible. "Nurses have the luxury of spending more time with their patients than the doctor and are there to help so be honest about any issues you are having. Don't pretend you are fine or worry that the nurses will think you are complaining. Please carry an accurate and up to date list of all medications and supplements you are taking - this can make a huge difference in your treatment and speeds things along. Also keep an accurate medical history including major illnesses and surgeries. Take a list of your concerns when you go to the doctor so you don't forget anything you want to discuss. Last, talk to your family about end of life decisions while you are healthy to take the burden off your family when there is a crisis."
[+] add comment