News Taffy
News Article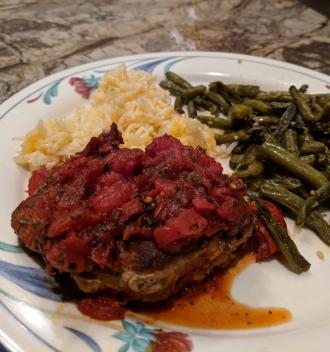 The Cardiologist's Wife - A Healthy, Good Tasting Recipe? YES!
Good tasting food that is healthy for you doesn't have to be complicated or take a long time to cook. Last night I suddenly realized I didn't have all the ingredients to make the recipe I had planned on and it was too late to run to the store. I turned to trusty Google to help me figure out what to make and stumbled upon this recipe from Southern Living. I needed something quick with few ingredients that I would be likely to have on hand and this fit the bill. Best of all, my husband and I really liked it. The tomato gravy is an nutritional upgrade from ketchup which has mostly salt and sugar and no nutrition.
If you choose lean meats, this recipe provides a good source of protein. The tomatoes provide loads of vitamins A and C, fiber, potassium and lycopene, another antioxidant. Even the onions add fiber, vitamin B-6 and lots of vitamin C. Both onions and tomatoes are low in calories, making them nutrient dense. You can also add a second can of tomatoes and serve the patties and tomato gravy over mashed potatoes or brown rice for a heartier meal. Note that brown rice has more protein, fiber and other nutrients than white rice which has had the nutrients stripped right out of it when they remove the bran and germ during processing.
Burgers in Tomato Gravy
1 to 1 1/2 lbs. ground meat, your choice
1 large egg, beaten
1/2 tsp. black pepper
1/2 tsp. salt
1 onion, chopped
1 can fire roasted diced tomatoes
1 cup beef broth
1 tsp. dried parsley
1 tsp. dried basil
Mix ground meat, egg, pepper and salt in a large bowl. Shape into 4 to 6 patties. Brown patties on each side in a large skillet over medium high heat. Remove patties and heat 1 Tbsp. olive oil over medium high heat and add onions. Sauté until nicely browned. Add tomatoes, 1/2 cup of the beef broth, parsley and basil, stirring to combine. Return patties to pan and let simmer 5 to 10 minutes until patties are cooked through and sauce has thickened slightly. Add remaining broth as needed if sauce becomes too thick. Serve patties with sauce spooned over them.
I used ground turkey because I'm not fond of beef but you can use beef, bison or even lamb if you like, just make it a lean meat. Fresh herbs are good if you have them on hand but dried is perfectly fine. Just remember to use about double the amount of the fresh herbs to get the same intensity of flavor.
Steam some broccoli, make a salad or stir fry some green beans like I did to finish off your meal. This dinner took about 35 minutes start to finish, which is quicker than you can run to a restaurant for takeout and much better for you!
[+] add comment