News Taffy
News Article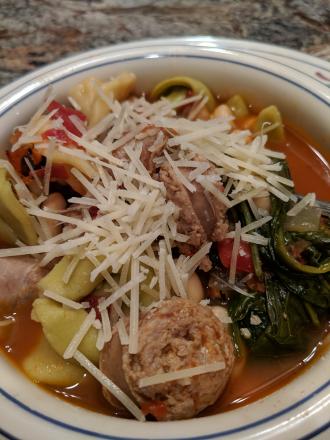 The Cardiologist's Wife - Cooler Temps Mean Warmer Meals (With Recipe!)
Fall certainly arrived in a rush, didn't it? Hot enough to swim one day, then time for coats and hats the next. Fall is my favorite time of the year, perhaps because I was born in October, so I welcome the cooler weather. With the changing of the seasons, I usher in a different, heartier menu as well. Eating and digesting food actually produces heat in the body, a process known as thermogenesis and certain foods, like root vegetables, increase the amount of heat generated. Eating something hot, like soup or a warm drink, can warm you up but this heat is only temporary until digestion kicks in. Our bodies know exactly what we need to eat if we just listen which is why we crave certain foods at different times of the year.
The following recipe is just right for these cooler fall nights. Chicken sausage is lower in fat than turkey or pork sausage, making it a good choice for those who want to eat a healthier diet. The onion, tomatoes and spinach add plenty of antioxidants, fiber and other phytonutrients your body needs. Onions add lots of flavor so you can use less salt, key for those watching their salt intake.
I love beans for their taste but also because they pack a lot of nutrition. I'm sure you know they are loaded with fiber and protein but did you know they contain a large amount of calcium and iron? One cup of white beans contains about 49% of your daily needs for calcium, more than one cup of milk! White beans contain about 117% of your daily needs for iron, an excellent source. Even the red pepper flakes are full of important nutrients that boost our immune system and keep our heart healthy plus the spiciness raises our body temperature. It is easy to see how we can get all the nutrients we need from eating a variety of fruits, vegetables and legumes, no vitamins or supplements necessary!
Serve this soup with some whole wheat bread and a side salad. You'll be warm in no time, whatever the temperature outside!
Tuscan Tortellini Soup
1 lb. cooked chicken sausage links, sliced into 1/2 inch thick rounds
1 Tbsp. olive oil
1 medium sweet onion, chopped
3 cloves garlic, minced
1/2 tsp. salt
pepper to taste
1 28 oz. can diced tomatoes
6 cups. low sodium chicken broth
1 tsp. crushed red pepper flakes
2 9 oz. packages refrigerated cheese tortellini
1 15 oz. can white beans, drained and rinsed
5 oz. package spinach
freshly grated Parmesan
Heat oil in a large pot over medium heat. Add onion and cook until just beginning to brown, stirring often. Add sausage and cook until golden, about 5 minutes, then add garlic and cook 1 minute more. Stir in tomatoes, broth, red pepper flakes, salt and pepper.
Bring to a boil and add tortellini. Reduce heat and simmer until tortellini is cooked, about 15 to 20 minutes. Stir in beans and spinach and cook until spinach wilts, about 2 minutes. Serve with a sprinkle of Parmesan.
[+] add comment