News Taffy
News Article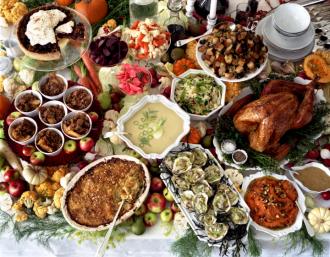 The Cardiologist's Wife - Healthier Thanksgiving Menu (With Recipies)
Thanksgiving is next week and kicks off the start of the holiday binge season. (Unless you got started at Halloween gobbling your children's candy after they went to bed!) Thanksgiving comes but once a year and we hold dear our traditions and favorite foods. For those who have health problems like high blood pressure, diabetes, weight issues or heart disease, Thanksgiving can be a real struggle. I'm not about to tell you to give up everything and nibble a carrot stick while everyone else eats to their heart's content. But I do have a few ideas to help you eat better throughout the holidays.
Let's start with some of the recipes most likely to be overloaded with sugar and fat - sweet potato casserole and cranberry salad. You can still have your sweet potatoes but you don't have to smother them in a sticky, sugary mess. Here is a recipe that my family enjoys - we don't miss the other versions at all. And if we're being honest, a traditional sweet potato casserole topped with marshmallows or pecans and brown sugar is really dessert, not a side dish.
Sweet Potato Casserole with Caramelized Apples
4 large sweet potatoes
2 Tbsp. salted butter, divided
2 Tbsp. olive oil, divided
2 Tbsp. milk
1/2 cup unsweetened applesauce
2 tsp. grated fresh ginger
1 tsp. lemon zest
1 tsp. salt
1 tsp. black pepper
2 Honey-crisp apples, peeled, cored and thinly sliced
3 Tbsp. light brown sugar
Heat oven to 400. Bake potatoes 1 hour or until tender when pierced. Let cool, then scoop flesh into a large bowl. Add 1 Tbsp. butter and 1 Tbsp olive oil and the milk. Beat with a mixer on medium high until smooth. Add apple sauce, ginger, lemon zest, salt and pepper. Spoon into baking dish sprayed with cooking spray. In a large skillet, over medium heat, melt remaining butter and olive oil. Sauté the apples and sugar until golden brown, about 10 minutes. Spread apples on top of sweet potatoes and bake 10 to 15 minutes until heated through.
It wouldn't be Thanksgiving without cranberry sauce. But canned cranberry sauce packs a ton of sugar. Jellied cranberry sauce and whole berry sauce aren't much different; 1/4 cup has 110 calories and 24 grams of sugar or 6 teaspoons! The following recipe can be made ahead.
Balsamic Cranberry Onion Jam
1/3 cup olive oil
4 cups chopped sweet onions
1 tsp. salt
1/4 cup honey
1/4 tsp. pepper
2 fresh thyme sprigs
1 12 oz. package fresh cranberries
1 Tbsp. balsamic vinegar
Heat oil in a large skillet over medium high heat. Add onions and sauté 30 minutes, stirring often, until caramelized. Add remaining ingredients except vinegar and cook uncovered, 30 minutes or until cranberries break down and mixture is syrupy. Discard thyme and stir in vinegar.
As a good host, you should strive to have some plainer dishes on the table for those who have health issues or children who don't like heavy sauces. How about making garlic green beans instead of the perennial favorite green bean casserole drowning in mushroom soup? Simply sauté 4 well drained cans of whole green beans in 3 Tbsp. olive oil in a large skillet over medium high heat. Sauté about 40 minutes, stirring frequently, until lightly browned. Add 2 cloves of minced garlic the last 2 minutes, salt and pepper to taste.
My next article will have more holiday tips.
[+] add comment