News Taffy
News Article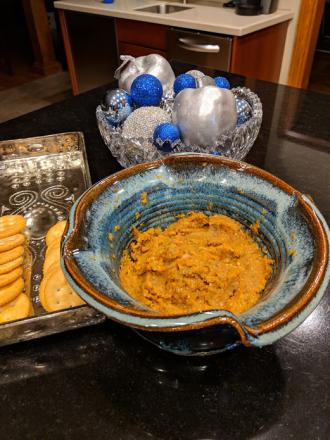 The Cardiologist's Wife - Eggplant Dip Recipe
What is dark purple, pear shaped, generally accepted as a vegetable but in reality is a fruit? An eggplant! I learned something unexpected this past weekend when I decided to make an eggplant dip for our Supper Club Christmas party. Eggplant is actually a fruit! Who would have ever guessed? That being said, I'm never going to add eggplant to my fruit salad or serve eggplant pie for dessert. Even I won't go that far. But I do love eggplant in many savory dishes like eggplant parmesan or the tasty dip I made for the party.
Like most fruits and vegetables, eggplant is very nutritious and should be a part of your regular diet. Eggplant is mild tasting, very easy to cook and versatile. Try throwing some on the grill or adding it to a vegetarian curry dish. Though you only see the typical dark purple variety, or Globe eggplant, in our local grocery stores, there are many other types that can be found in the summer at local farmer's markets. Japanese eggplants are still dark purple but are long and skinny, Graffiti eggplants are small and streaked with white and purple while Fairy Tale eggplants are tiny and of course there are white eggplants. Eggplants are excellent sources of fiber, calcium, potassium, vitamin B6, C and K and many other important minerals and phytonutrients which you need to be your healthiest!
If you are looking for an easy dip for a holiday party, give this one a try. I got several requests for the recipe which is easy to make and can be made a day in advance. It's a nice alternative to all the heavy, cheesy dishes populating the holiday party buffets. I also think it would be good tossed with a pasta like rigatoni or cavatappi for a light dinner. Try adding a bit of cayenne pepper or extra sriracha if you like it hotter. The spices in this recipe add other nutrients like curcumin which reduces inflammation, further upping the nutritional value but you won't care, it tastes so good.
Spicy Greek Eggplant Dip
2 medium eggplants
1 red bell pepper
2 Tbsp. olive oil
1 28 oz. can plum tomatoes, drained
1 small onion, diced small
1 clove garlic, minced
1 tsp. salt
1 Tbsp. maple syrup
1/4 tsp. each ground coriander, cumin, turmeric, cinnamon
1 tsp. sriracha
1 Tbsp. lemon juice (optional)
2 Tbsp. chopped fresh basil (optional)
Preheat oven to 400. Wash eggplant and bell pepper. Cut them into 1 inch chunks and place in a large bowl. Drizzle with the olive oil and stir to coat. Line a large baking sheet with parchment paper and spread the vegetables over it evenly. Roast 30 to 45 minutes, stirring once halfway through cooking, or until vegetables are lightly browned and very soft. Transfer to a food processor and add the tomatoes, onion, garlic, salt, maple syrup, sriracha and spices. Process 3 to 5 seconds until coarsely pureed, leave slightly chunky. Adjust seasoning if necessary. Transfer to a serving bowl and refrigerate until ready to serve. Top with fresh basil and lemon juice if desired before serving with crackers, carrot or celery sticks or as a topping for bruschetta. Makes about 2 cups.
Don't forget there is a talk on meditation and relaxation at St. Bernard's Health and Wellness today at noon and again at 5:30!
[+] add comment