News Taffy
News Article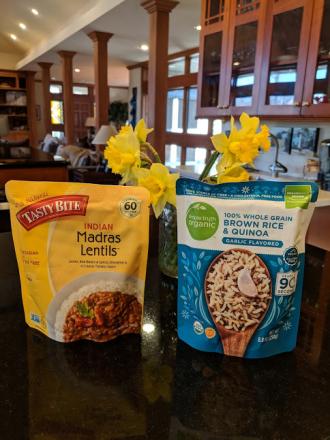 The Cardiologist's Wife - Quick, Healthy Meal Ideas
While I always encourage people to cook for themselves in order to eat a healthier diet, I am not unsympathetic to the fact that many people don't like to cook, don't have the time to cook or simply haven't acquired many cooking skills. I also recommend that people focus on what I like to call good, better or best options when eating and to strive to eat a balanced diet filled with fruits, vegetables and lean proteins MOST of the time. Many of the recipes I share are very simple for those reasons but today I have a couple of quick meal ideas that don't require much prep time and are good options for lunch or dinner. Even I get tired of menu planning, grocery shopping and cooking.
One of my new favorite items at the grocery store for a super quick and fairly nutritious lunch is Tasty Bite Indian Madras Lentils. This lentil and red bean dish tastes just like mild chili and comes in a handy pouch that you can microwave. Lunch in 60 seconds for about for about $3 bucks! If you eat the whole pouch which is only 10 ounces, you get 10 grams of fiber and 12 grams of protein for 300 calories. The downside is there is 6 grams of saturated fat and 1020 milligrams of salt which is 42% of your daily needs for salt. That means you need to watch the rest of your salt intake for the day but overall it is a decent choice for lunch, especially paired with some fresh fruit.
Bowls are my go-to for meals lately. You can cram a lot of nutritious ingredients into a delicious bowl of food without much work. Simple Truth's Organic Brown Rice and Quinoa packets, $1.99, make it that much easier to have a meal on the table quickly. The rice and quinoa packet is precooked and microwaves in the packet in 90 seconds. A one cup serving has 3 grams of fiber and 6 grams of protein. Use it as a base for your other ingredients. I added some canned black beans, no salt added of course, diced avocado, cherry tomatoes, sliced green onions, salsa, fresh chopped cilantro, a sprinkle of chili powder and a bit of grated cheese for a southwest style bowl. If you want meat, you could add some diced deli chicken. Or try topping the rice with some leftover pulled pork, pineapple, avocado slices and bell pepper strips. When I cook salmon, I cook extra for a quick lunch the next day. Salmon, avocado and green onion with a light drizzle of teriyaki sauce on the rice would be good. The possibilities are endless and you can find many more ideas by googling bowl recipes.
My whole family enjoys a grill cheese sandwich with some marinara sauce for dipping. Use whole wheat bread, a slice or two at most of provolone cheese or whatever cheese you prefer and use no more than 1/2 Tbsp of butter when grilling. Half a cup of marinara is plenty. Half a cup of mixed berries on the side.
The point is eating well can be quick, taste really good and be easy on the pocket book.
[+] add comment