News Taffy
News Article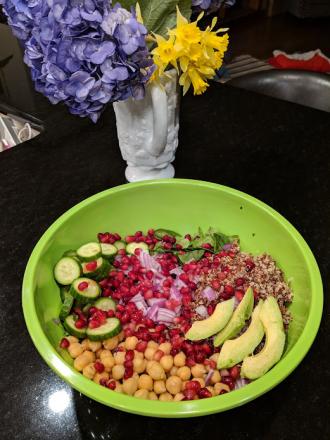 The Cardiologist's Wife - Chickpea Quinoa Salad Recipe
Just a few years ago, I wondered what vegetarians ate as I was worried one might go hungry without meat. But as my husband and I have evolved, we have discovered a whole wonderful world of new vegetarian dishes to try. Not only are they tasty, they are satisfying and we don't feel a bit hungry or deprived. Even better, we are doing something good for our bodies. We haven't given up meat but we do try to eat more a more plant based diet these days because it's good for your heart, your brain and your overall health.
We ate the following salad Monday night for dinner. It's a new recipe and we both liked it because of all the different layers of flavor and texture. One of the nice things about eating a meal like this is that while you are satisfied, you don't feel overfull, bloated or suffer from indigestion later like you might when you eat fatty meat, fried or processed foods. There is little cooking involved here for those who don't like to cook, another plus. The quinoa cooks in about 15 minutes while you chop the rest of the veggies, then you toss it altogether.
Do try to find a pomegranate as it adds a pop of flavor and color to this beautiful salad. Pomegranates are extremely nutritious fruits. They are definitely worth the trouble to cut open and scoop out the arils, the tiny red juicy jewels surrounding the white seed. Pomegranates are rich in vitamin C, potassium, antioxidants and fiber. Most the fiber is hiding in the seeds so don't spit them out. The chickpeas add protein - 7 grams in a half cup - and more fiber to help fill you up. Try to find canned chickpeas with no added salt. I also intend to add some toasted pecans next time as I think that would compliment the other flavors as well as add more fiber, protein and vitamins.
Chickpea Quinoa Salad
1 cup quinoa, rinsed, I only used about 1/2 the amount I cooked and used it for another salad
5 oz. baby spinach, chopped
1 small red onion, thinly sliced, I only used 1/4 of the onion
1 pomegranate, arils removed
2 small cucumbers, sliced
1 can chickpeas, drained and rinsed
1 small bunch Italian parsley, chopped
1/4 cup 1 avocado, sliced
Cook quinoa according to package directions. Let cool at room temperature. Place chopped spinach in a large bowl. Top with quinoa, onion, pomegranate arils, cucumber slices, chickpeas and parsley. Add desired amount of vinaigrette and toss to combine. Add sliced avocado to each serving.
It's so easy to whip up your own salad dressings. This would be good on just about any salad. I can't say that this vinaigrette is a health food but at least there aren't added chemicals or food colorings.
Apple Cider Vinaigrette
3 Tbsp. Olive oil
1/4 cup apple cider vinegar
1 clove garlic, minced
1 Tbsp. Maple syrup
1 Tbsp. Dijon mustard
1/2 tsp. Sea salt
Place all ingredients in a small bowl and whisk till well combined or place in a small jar and shake till well combined.
[+] add comment