News Taffy
News Article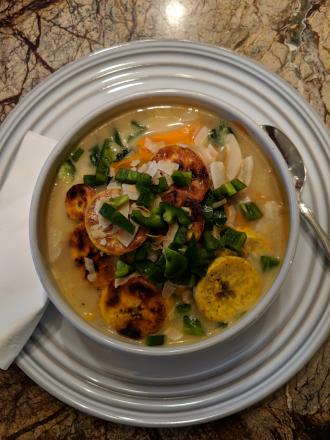 The Cardiologist's Wife - Purple Carrot? YES!
If you are looking for an easier way to get a healthy dinner on the table and you are up for some adventure in your eating, give Purple Carrot a try. There are many meal preparation kits on the market these days and they can be a real timesaver while providing quality food. Purple Carrot is a vegan meal delivery kit that is a convenient way to add more plant based meals to your diet. Husband and I (well, mainly I) decided to give Purple Carrot a try because we are interested in eating more vegetarian meals in the interest of better health. We have used Blue Apron meal kits in the past but wanted to try something different.
Oh boy, is it ever different! Each week we get things I've never heard of but we both heartily agree that the meals have been tasty and perfectly satisfying. Each box contains enough food for three meals for two people and includes easy to follow recipes and all the fresh ingredients required. You supply the cooking utensils and oil. Purple Carrot is pretty flexible; you can easily skip weeks, change the menu for the week or add extras for breakfast or lunch. There are three menu types to chose from - Chef's Choice which is innovative dishes using seasonal ingredients; Quick and Easy dishes which are ready in 30 minutes or less; High Protein dishes which contain at least 20 grams of protein per serving. Each recipe also lists the nutrition facts and calorie count. The biggest downside is that the cost is somewhat pricy at $12 per plate or $72 per week for 6 meals.
We have eaten dishes like plantain arepas, creamy tomato soup, sticky apricot seitan (seitan is a wheat based meat substitute that has been around for hundreds of years in Asia) and coconut tofu bowls - all were delicious. I have been impressed with how easy these meals are to prepare even if there is some chopping or mixing to do. The food has arrived on time, cold and with good quality, fresh ingredients. Most of the packaging can be recycled locally, even the cold packs.
If you are a vegetarian or curious about a diet of only plant based meals, this kit can help you explore a whole new world of eating. Purple Carrot's mission is to "bring plant-based eating into the mainstream to improve health, our environment and animal welfare." Your cardiologist definitely approves of you eating more fruits and vegetables as a plant based diet reduces your risk for developing many disease like heart disease and type 2 diabetes. For those of you who care about the environment, you can reduce your carbon footprint by switching to a plant-based diet. For example, it takes 1850 gallons of water to produce 1 lb. of beef but only 39 gallons for 1 lb. of vegetables.
The bottom line is that there are over 20,000 edible plants in the world! Wouldn't you like to try a few of them and discover a whole new world of taste?
[+] add comment