News Taffy
News Article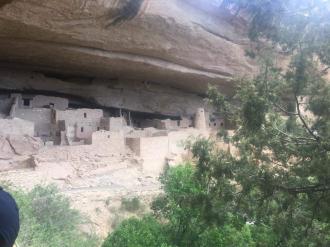 The Cardiologist's Wife - Safety Concerns on Vacation
I had a rather scary experience while visiting Mesa Verde National Park in Colorado recently. Mesa Verde has some of the best preserved cliff dwellings of the Ancestral Pueblo people in the United States. It is an amazing place and I highly recommend stopping there for a day to learn more about Native American history. My husband and I took the ranger led tour of Cliff Palace, one of the larger cliff dwellings at Mesa Verde which involves going down a short, but steep path, walking along cliff edges and climbing up ladders and high steps, all while at a 7000 foot elevation. The park ranger went over safety concerns at length and cautioned those with heart problems, pregnancy, etc. to consider not going. One couple in our group should have listened. While they were able to make it out unaided, I was terribly afraid the woman was going to pass out or be physically unable to make it up the steep, narrow steps. She was gasping for breath, weak and shaky for most of the trip, but particularly on the way out where the path was exceedingly narrow. Her husband wasn't in much better shape and he was having to help her the entire way. A rescue would have been very difficult at that spot.
Which brings me to today's point - you are responsible for your own safety and that of your family. You should not unnecessarily put yourself in danger or put others at risk who have to rescue you. Before visiting any national or state park, you should familiarize yourself with the park's features and note any safety information provided on the park's website, brochure or by park rangers.
Use good judgement, prepare ahead of time and pay attention constantly. If you are not sure whether you are fit enough for a certain trip, ask your physician or a personal trainer to help you make that decision ahead of time. Prepare for your trip by packing necessities like a hat, sunscreen, bug repellant, snacks and a bottle of water. Decide whether the trip is appropriate for young children. Are there age restrictions for certain tours? Will your child be able to walk the extent of the trails or climb steep areas independently? If not, will you be able to safely carry them without impairing your own balance and mobility? Is your child capable of listening and obeying you promptly when their safety may be at stake?
Accidents don't just happen on land, they happen at the beach or lake as well. When at the beach, stay near your children and keep an eye on the water conditions. It doesn't take much before the current is too strong for young swimmers or even the elderly. Someone should also be keeping an eye out for what's swimming in the water with you; even a jellyfish sting can ruin your day. Always follow boating safety rules and make sure everyone is wearing a life jacket. Don't let an accident ruin your vacation and be smart about your abilities.
[+] add comment