News Taffy
News Article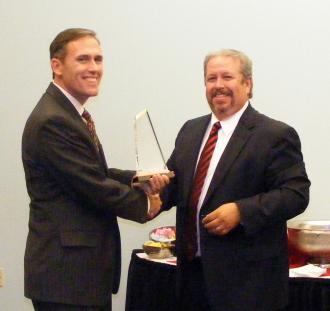 ASU - Jonesboro: Dr. Rick Stripling receives Dr. Mossie J. Richmond Outstanding Leadership Award
Dr. Rick Stripling, Vice Chancellor for Student Affairs at Arkansas State University, received the Dr. Mossie J. Richmond Outstanding Leadership Award at the Arkansas College Personnel Association's annual meeting, November 11-12, in Springdale.  
The award recognizes student affairs leaders from Arkansas who have made significant contributions to the association and the student affairs profession within the state. It is named for the late Dr. Mossie J. Richmond, former interim president of ASU and vice president for Student Affairs. Dr. Stripling said being named recipient of the award is especially meaningful because Dr. Richmond was a personal friend and mentor. 



"Dr. Richmond was a true leader at ASU and to me and many others who learned from him," said Dr. Stripling. "His leadership was gentle yet effective, and I strive to lead by example as he did. His vision for the mission and growth of student affairs impacts our programs to this day. To say that he left big shoes to fill at ASU is most certainly an understatement."

In addition to acknowledging Stripling's familiarity with construction, bonds and contracted food service, the award also recognizes his willingness to serve as a resource to other areas on ASU's campus. The award also honors his efforts in starting the master's level college student personnel program and contributing time to teaching and supervising the practicum and intern portions of the degree program.

Under Stripling's leadership, the division of Student Affairs has overseen the construction of 10 new buildings and renovated two major buildings during the last decade. The construction and renovation projects, totaling over $135 million, include Collegiate Park and Northpark Quad apartments for sophomores, juniors and seniors; Heritage Plaza outdoor plaza and amphitheater; Florida coast-style apartments for nontraditional/graduate students; Red Wolf Den apartments for students with 60-plus credit hours; Honors Living-Learning Community;  STEM/ROTC Living-Learning Communities; Red WOLF Center fitness and recreation facility;  Student Health Center; Parking Garage; Student Union; Carl R. Reng Student Services Center renovation; and Kays Hall (women's residential facility) renovation.
PHOTO CUTLINE: (From left) David Mayes, Director of Enrollment Management at ASU-Beebe and president of the Arkansas College Personnel Association, and Dr. Rick Stripling, Vice Chancellor of Student Affairs at ASU-Jonesboro.
[+] add comment