News Taffy
News Article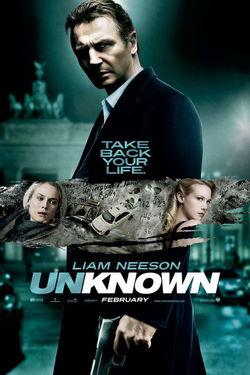 Movie Review: Unknown
(Spoiler Alert:  If you want to find out more about the movie without hearing too much about the plot, head here instead.)
Let me preface this review by saying that I love movies…a lot. My husband and I take full advantage of our Netflix membership, enjoy catching big-time blockbusters at the theater, and somehow, still manage the occasional pit-stop by Blockbuster and Red Box. I will also confess that I am a huge Liam Neeson fan. That being said, I was a bit disappointed by Neeson's latest flick, Unknown.
Unknown is an international mystery thriller that takes place in Berlin. Dr. Martin Harris (Neeson), who is in Germany to speak at a global technology conference, gets into an accident on his way back to the airport to retrieve his briefcase. When he awakes from his coma after four days, nobody, not even his wife (Mad Men's January Jones), knows who he is. With the help his cab driver, Gina (Diane Kruger), Neeson's character makes it his mission to find out why everyone seems to think that another man, played by Aidan Quinn, is the real Dr. Martin Harris.
The entire time that I sat in the theater munching on my popcorn, I couldn't shake the feeling of déjà vu. Had I accidentally sat down to watch Matt Damon in The Bourne Identity again? Memory loss? Check. Secret ninja skills? Check. Using a random foreign woman to help you out just because she has a car? Check. Finding out the main character used to be a murderous secret spy? Check. Couple the similar story line with even more similarities to Neeson's recent role as a daring father in Taken, and the result is a movie that has borrowed much of its story line.
Don't get me wrong, Neeson's ability to look intensely calm while kicking butt still makes him great in this type of movie, but putting a more Hitchcock-esque twist on two well-known movies does not a great movie make. Thankfully, German-born Kruger's accent was (obviously) realistic, unlike Gwyneth Paltrow's annoyingly fake twang in Country Strong.   
The bottom line? I'd give this mystery thriller a C+.
[+] add comment