News Taffy
News Article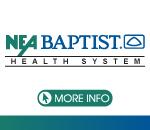 NEA Baptist Health System Will Begin Construction Next Month
According to Health System Officials, construction on the new NEA Baptist Health System medical campus will begin within the next month.

"We are eager to take the next step in this important project,"  
said Paul Betz, administrator and CEO of NEA Baptist Memorial  
Hospital. "The new facilities will help us completely transform the  
way we care for patients because the hospital and the new NEA Baptist Clinic building will be connected. Many of our physicians will be in  
the same location as the hospital, meaning physicians and hospital  
staff can work together more easily to provide integrated care to  
patients."
"Since strategically integrating in February 2010, the physicians 
and staff of NEA Baptist Clinic are excited to see the dream of a new 
medical office building become a reality," said Darrell King, CEO of 
NEA Baptist Clinic. "Our building connects each clinic department 
with the appropriate hospital floor. This type of integrated design 
enhances our ability to provide patients with a high level of health 
care and allows our patients and physicians to easily move between 
the clinic and the hospital for care and testing."

Harold Petty, Earl Swensson Associates' director of medical design 
and principal-in-charge of the Jonesboro project said, "The 
opportunity to work with the NEA Baptist Health System and the 
incorporation of multiple service lines of a large physician group 
has been an exciting experience for our design team. We've been able 
to align NEA Baptist Clinic's clinical service lines with that of 
the new hospital so they become well integrated for high efficiency. 
This efficiency, in turn, benefits the patients, families, physicians 
and staff in the achievement of better outcomes in the patient 
experience. Some of the important design features include easy 
wayfinding and entry onto the medical campus; a healing, hospitable 
environment within; and comfortable inpatient rooms filled with 
natural light."
Trailers will move onto the construction site in March, and work on  
the buildings will begin the following month. The project, which was  
designed by architectural firm Earl Swensson Associates Inc., is  
expected to be complete in the summer of 2013. The new hospital will  
measure 550,000 square feet and have 181 beds. An adjoining 213,000-square-foot professional medical office building will house NEA  
Baptist Clinic's medical specialists and surgeons, as well as  
diagnostic testing services. The building will be connected floor by  
floor with the inpatient hospital. The project represents a $400  
million investment in the Jonesboro community.
[+] add comment