News Taffy
News Article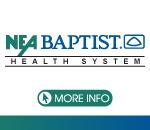 NEA Baptist Clinic Welcomes Aaron Wallace, MD
Aaron Wallace, MD has joined NEA Baptist Clinic Orthopedic Surgery. Dr. Wallace brings with him 8 years of experience in the field of orthopedics and sports medicine.
Dr. Wallace received his bachelor's in Chemical Engineering from University of Arkansas Fayetteville and his MD from University of Arkansas for Medical Sciences in Little Rock, AR. He completed his internship and residency at Hamot Medical Center in Erie, PA and his fellowship in Orthopaedic Sports Medicine at Penn State Hershey Medical Center in State College, PA. Dr. Wallace is a fellow of the Arthroscopy Association of North America, American Orthopaedic Society for Sports Medicine and the American Academy of Orthopaedic Surgery.
Dr. Wallace, along with his wife, Brooke, and child, Carter, just recently moved to Jonesboro from Mountain Home, AR. Dr. Wallace joins Jason Brandt, MD and Henry Stroope, MD in seeing patients at NEA Baptist Clinic - Orthopedic Surgery located at 1007 Windover Rd. in Jonesboro.
To make an appointment with Dr. Wallace, call (870) 932-6637.
NEA Baptist Clinic is the largest and most comprehensive physician-led and professionally managed multi-specialty group practice in the region. NEA Baptist Clinic is made up of over 90 physicians providing care in 32 medical specialties. The mission of NEA Baptist Clinic is to provide comprehensive, personalized, quality healthcare for our patients throughout the Northeast Arkansas region. For more information on NEA Baptist Clinic, visit us at www.neabaptistclinic.com.
[+] add comment