News Taffy
News Article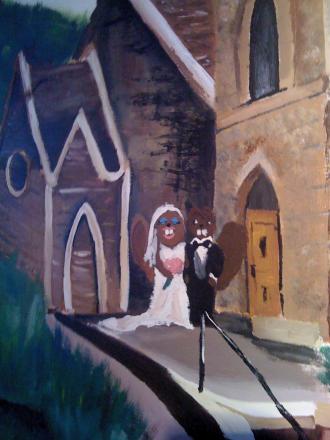 The Occasions Lady and The Not-So-Royal Wedding: 10 Days and Counting
10 Days and Counting!
Last night, ABC's Barbara Walters took viewers inside the fairytale romance of Prince William and Kate Middleton. Tonight, I'm going to take you inside the fairytale romance of two middle-aged American commoners who will marry in just 10 days atop Arkansas' Mt. Magazine.
Rodney and I met at Blytheville High School. We came from different worlds, or so we thought. He had attended West Junior High School, while I had attended the crosstown rivalry, East Junior High. Even today, he sometimes taunts me with a familiar rhyme from our junior high days: "West is best. East is least." That didn't phase those of us who attended East. We knew it wasn't true. After all, East was the NEW junior high school. Who would want to go to the OLD junior high?
If memory serves me correctly, and often it does not, the first time we were really around each other was in 10th grade. Rodney drove a group of fellow sophomores to a football game in Sikeston, Mo., in his green Grand Torino, and I was among them. I don't remember much more than that.
Two years later, shortly after graduating from BHS, we both traveled to Ft. Walton, Fla., for our senior trip. We started talking at a party, he says, and then went for a walk on the beach. My memory doesn't kick in until we were strolling along the beach, hand in hand, with Rodney wearing shorts, a T-shirt and most memorably, a white top hat from prom the previous week. It was May 1984 and it was our first kiss.
When we returned home, we didn't date. He says it was because he wasn't on my radar screen. I say it was because I just wanted to have fun with my friends that summer. Regardless, it wasn't until the following year that he asked me on a date. At the time, we were both attending the local community college. Before our date, he sent me a dozen red roses, making him the first guy to ever send me flowers. Unfortunately, neither of us remembers much about what we did that night. A ballgame perhaps?
A few months later, our paths went separate ways. Rodney enlisted in the Air Force and eventually settled just outside Oklahoma City, married and had a son. I moved to Jonesboro, graduated from ASU, married, moved around a bit before settling back in Jonesboro, and had three children.
On occasion, someone will ask how long we've been dating. "About 27 years," I respond jokingly.  
In 2009, Rodney and I found ourselves in similar situations. Both divorced, we had begun talking and decided to meet again after not seeing each other for 25 years. We swapped photos through email, cautioned each other that we were no longer 18 and met for the first time in more than two decades at Mt. Magazine, the highest point in the state located approximately halfway between Jonesboro and Oklahoma City.
Long-distance romances are not for sissies. For more than two years (27 months to be exact), we have managed to maintain a relationship from seven hours apart with four kids between us. Phone calls, email, texts and eventually Skype helped make it possible in between visits but it has not been easy.
So, in just 10 days, I will marry that very first young man who sent me roses so many years ago and we will finally get to begin our life together. When I tell him I will marry the love of my life on that day, he reminds me that he will, too. 
I'm not sure why life sometimes turns out so differently than we planned, but I do know that God can take broken roads, broken pieces and broken hearts and turn them into blessings you could never imagine. 
[+] add comment
This is a wonderful story, and I'm happy for you! I knew you both back then, although I was a teacher and not a classmate. You were both smart, sweet, good young people--just like you are now, only twenty-something years older *and* better. Best wishes for a very happy life together! SB
Wow! I love your story. And they lived happily ever after:) Your kuz in law.
How inspiring! Perhaps My Love, and coincidently the first guy that brought me flowers, will come back to me. I believe some of the best fairy tales aren't fairy tales at all. They are great testaments of love and the beauty of life's events. Many blessings and a happily ever after! - Ms. Fairweather
This story is better than the royals. Rodney is a great guy and he will be missed at the commission. We are very sorry to see him go but it sounds like he has indeed reconnected with the love of his life. We wish you both all the happiness in the world. JR
Oh WOW!!! Y'all are my fairytale come true! I am so happy for both of you. Two of my favorite people making each other so happy. Loved the story (although you didn't tell me about the KISS....or did you? I hate getting old.) Anyway....hugs to both and know my heart will be with you guys on your special, most wonderful day. Love you!!!! ~Jane Day Tiller~
Great story. I am going to miss Rodney at OCC, but I wish both of you the happy every after to this story. Joyce Conner
Beautiful Audrey! Dawn Layer
Beautiful story! Best wishes to you both!
good story,the top hat on the beach should have been a clue that this guy had a future ,, best wishes,,, will see you at Mt. Mag. JUENE