News Taffy
News Article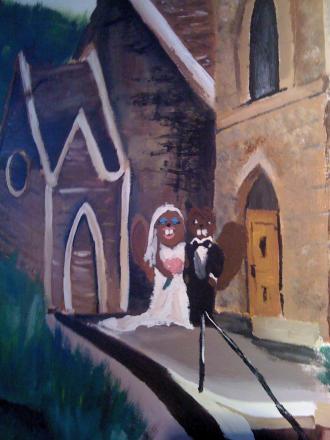 The Occasions Lady and the Not-So-Royal Wedding: The Final Countdown
The official countdown to the royal wedding has begun. As for the not-so-royal wedding about to take place on this side of the pond, we can finally say that we are getting married THIS week. Hooray!!!
Rodney and I have had lots of positive feed back on The Occasions Lady and the Not-So-Royal Wedding blog. During the past couple of weeks, we've heard from many of you who are counting down with us. Several viewers have also commented on the photo that I upload with the blog for each post so I thought I would provide a bit of history.
Although the photo looks like a picture of two squirrels in wedding attire, they are actually beavers. Not long after we started dating, Rodney and I met in Eureka Springs just before the spring of 2009. Before we had to part ways that weekend, he invited me to a rather unique restaurant for breakfast called "The Rowdy Beaver."
Beavers were included in every part of the restaurant's decor and there were endless beaver-themed items in the restaurant's gift shop.
We must have arrived just minutes after The Rowdy Beaver opened because there was only one other couple in the restaurant being served besides us. We all opted for the breakfast buffet and the four of us headed toward the back room to serve ourselves as directed. The other couple, who looked to be about our age, picked up plates and proceeded down the line of eggs, biscuits, sausage - the usual breakfast fare. As cheesy as it may sound, there was music playing in the room when we arrived, and Rodney took my hand and began to dance with me in the nearly vacant restaurant.
It was a classic song from the '70s or '80s - James Taylor perhaps. It's hard to remember now. What we both vividly remember, however, is the look on the wife's face as we danced. Remember the restaurant scene in When Harry met Sally when the lady tells the waiter that she'll have what Meg Ryan is having? I think it had been a loooong time since that lady's husband had danced with her. They were probably bogged down with jobs, bills, kids - all the stuff that life throws at you, and if you let it, sucks the life and romance right out of you.
Whether he is insisting that I take a ride on a luggage cart in the corridor of a romantic lodge, or is dancing with me at The Rowdy' Beaver's breakfast bar, Rodney has a way of getting me to let go and just get lost in a silly moment. My face may turn 10 shades of red and I may protest without ceasing, but those are the moments that I treasure the most.
When we paid for our meal at The Rowdy Beaver, I noticed a mural behind the cash register that included the beaver bride and beaver groom at a chapel. I took a photo with my phone and for the past two years, it has always made me smile when I come across it unexpectedly. It reminds me that sometimes it's good to let go, and if you get a chance to dance at the breakfast buffet, always take it!
[+] add comment
Rodney certainly knows how to bring the best out in you. I may just give this hugging thing a try and see how it works out for me. Can't wait till the wedding. Hope we are not late for it. Very cute blog!!
I love this story soooo much! I must say, Rodney has worked some magic on you -- of the good kind! And I love seeing you this happy! Wish we could make it to the wedding -- I really want to meet him in person. Keep relishing those goofy moments. Luv ya -- Terry and Pepper
Every time I see the Rowdy Beaver....I laugh! Love you guys! See you at the wedding!
I love reading your stories! I am so very happy for the both of you! You both deserve to live Happily ever after! Robin Brewer Carek