News Taffy
News Article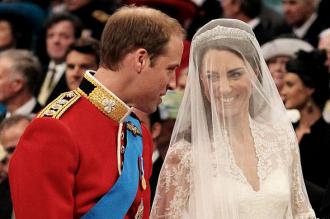 Much Ado About the Royal Wedding
Unless you have been living under a rock, you know that today, April 29, 2011, is the day that England's Price William and Kate Middleton were joined in holy matrimony in "the royal wedding."
I have always been a tomboy, which is perhaps why I'm more interested in watching "Swamp People" than I am in watching hours and hours of media coverage of a wedding of two people I don't even know…yet I know so many people who have been closely following all of the events leading up to today, and have probably been glued to their TVs for the past several hours. Yes, Kate is a "real life princess," and yes, it's one of the most grand nuptials most of us will ever see, but 4 a.m. is pretty dang early to wake up to see a dress (which I liked) that I just as easily Googled when I woke up at 6:30 a.m. Was anyone else dissapointed by her flowers?
Do you even care what's going on with Kate and William today? And if you do, what was your favorite moment(s) from the royal wedding so far? We asked out Facebook friends and twitter followers, and here's what they had to say. Have your own thoughts? Comment below!
@hspatters tweeted: @JboroOccasions The coverage doesn't bother me, but I wasn't that into details of my own wedding haha,so I definitely am not with their's :)
@savannahallred tweeted: This wedding is insane. I would have LOVED to be in London this week.
Lorie Bryant said via Facebook: The carriage ride after the ceremony.
@sarakrimm tweeted: I didn't realize how many cheesy friends I had til I woke up and saw them all tweeting about the royal wedding...
@lovebird_prod tweeted: @JboroOccasions I love the sweet words they were saying to each other plus how happy they appeared! Everyone loves a good a fairytale! :)
@TaraFrederick tweeted: The #RoyalWedding was absolutely perfect...yes I watched from 4am until 7:30am...everything from the queen walking in to the kiss;) #RW11
Linda Goad said via Facebook: When he looked at her and clearly said "You look beautiful" with a loving smile. Was a tender and real moment...the rest was long and all for the viewers it seemed.
@tena4gary tweeted: Ok, they got married. It's over. Real news is actually happening elsewhere in the world. How 'bout we cover that?
@staceyspivey tweeted: My eyes hurt from not sleeping, but watching the #RoyalWedding was worth it!
@blondish tweeted: I think I like Kate Middleton now that I've actually seen her smile. Of course, if I was marrying royalty I'd be smiling too.
@ghidotti tweeted: Well said! RT @kdreep: Late to the party, but the Royal Wedding was beautiful, the couple is perfect, and the gown was divine. Happy day!
Christy Clark-Wells said via Facebook: I thought seeing her getting into the car with her dad was very sweet-she looked so happy and I know how I loved the time alone w my dad right before it was time to walk.....very special!
In other much-closer-to-Jonesboro news, congratulations to Occasions Publishing Group's Audrey Watkins and Rodney Poff; they are getting married tomorrow on Mount Magazine! Check out Audrey's Not-So-Royal Wedding blog HERE.
If you haven't already, friend us on Facebook and follow us on twitter @JboroOccasions.
[+] add comment