News Taffy
News Article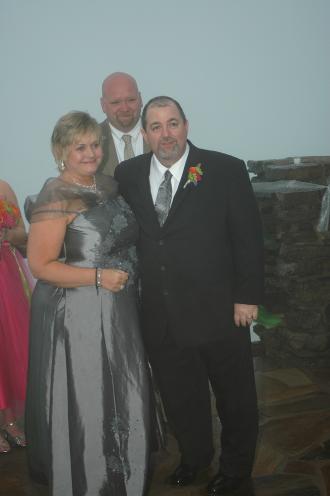 The Occasions Lady and the Not-So-Royal Wedding: Heaven on Earth
It's been exactly one week since our not-so-royal wedding at Mount Magazine. Now that we have photos to share, I thought it would be a good time for a recap.
If I had to use one word to describe our wedding for all of those in attendance it would be "memorable."
Rodney and I chose Mount Magazine as our wedding destination for several reasons:
1. It is a special place to us because it is where we met for the first time after not seeing each other for 25 years.
2. It is located approximately half way between Jonesboro and Oklahoma City, where Rodney resided before the wedding.
3. It is the highest point in the state of Arkansas and the scenery is breathtakingly beautiful in every season. 
We chose Cameron Bluff Overlook as the site for the ceremony, a beautiful vantage point that would need little decoration because of its natural beauty. We chose a large rustic pavilion as the site for the reception and back-up location in the event of rain.
After a long-distance relationship that spanned more than two years, Rodney and I were both excited about beginning our new life together, but we were also excited about sharing our special place with our friends and family. Many of those who would be attending were traveling from Jonesboro and Oklahoma City and had never seen Mount Magazine. After traveling four to five hours to attend the wedding, most of our guests returned home without seeing much more than the inside of the lodge.
We knew there was a chance of rain on our wedding day, but I thought the chance of rain occurring at our EXACT location at the EXACT time of our ceremony would be minimal. Still, from the time I got out of bed until the time of the ceremony, my thoughts were mainly on the elements at hand. Throughout the day, we battled wind, rain, isolated thunderstorms and thick fog as we prepared for the wedding and reception.
It seemed ironic that we had chosen such a beautiful spot for our ceremony, only to have rain and near zero visibility on the mountain on our wedding day. Less than three hours before the ceremony was to begin, Rodney and I left others to finish decorating the pavilion and drove to the overlook to decide if we should move the ceremony. Still not willing to concede, I talked him into helping me decorate a small section of the overlook with tulle and ribbon just in case.
At 5 p.m., it was still raining so we were forced to move the location for the photos to inside the lodge. A few minutes before the ceremony was scheduled to begin, we drove to Cameron Bluff to make the final call. Guests armed with umbrellas ventured out of their cars and we all stood on the terrace looking at each other through the mist.
By about 6:15, the steady drizzle suddenly stopped and the umbrellas began to come down. Not only did God provide a break from the rain that day, but he also provided scenery that we could have never imagined. The vivid colors of spring from the surrounding landscape were no where to be seen. Instead, we literally got married in the clouds last Saturday among friends and family. God chose His own backdrop for our wedding  - better than the one I had imagined of course and much more memorable.
For those of us surrounded by thick white clouds on top of Mount Magazine at 6 p.m on April 30, 2011, it was as if heaven came down to earth for our wedding day. What an awesome beginning! God is faithful.
[+] add comment
What a beautiful day it was! God had a plan for both of you and for your wedding day too. Having known both of you for many years, I was honored to be a part of your special day! It was all perfect!