News Taffy
News Article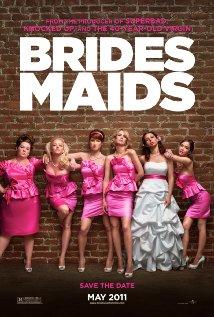 Monday Popcorn: Bridesmaids Gets a Thumbs Up
There are few things in this world I enjoy more than a good road trip…even if just to the humming metropolis of Paragould. Let me explain. My darling younger sister Lindsey made the town her home about six months ago and has been begging me to come there to socialize with her. Paragould is an interesting place. Most people who live there, actually live there…meaning they don't come to Jonesboro to do absolutely everything, like I assumed. In fact, there's quite a bit happening there (note: you have to drive past the "line" to find these things, wink wink), with number one on my personal list being the fact that you can have a giant margarita with your dinner at Chili's. Come on, you know you've made the trek up there for it, because let's face it, your bacon ranch quesadillas are SENSATIONAL when paired with the Presidente. Speaking of restaurants, today marks the end of Jonesboro civilization as we know it: that's right, Red Lobster is officially open. Looks like me and my old friend Caraway road are about to get reacquainted. Traffic jam, anyone?
My heavens I am wildly digressing here…back to Paragould! So baby sister graciously accepted the challenge of being my blogger partner in crime this week. But of course, being that she is a Paragouldian now, she immediately suggests we visit the Paragould Cinema 8. And by "suggest," I mean she said either we go there or she won't go with me. That settled that. Anyway, while she was looking for showtimes, the little genius stumbled upon something incredible that I simply MUST share with you. There is a 10:00 a.m. showing on Saturday mornings of all your favorite flicks, and if you go to it, you pay only FIVE DOLLARS, and includes your movie ticket, popcorn, and drink! (Nevermind the fact that it costs $17 to drive the 20 miles to get there, road trips are about spontaneity people!) And get this, the icing on the movie theater cake; they have sweet tea at this magical place! Stop and think about that for a second. It's about time someone figured this out. This is the flipping South after all. Hallelujah!
Oh, I almost forgot, you'd probably like to know a thing or two about what we saw, hence the fact that this is a movie review column. Anyway, Linds and I went to see Bridesmaids. Click here to watch the trailer. Now, a quick word about trailers before we get down to business…Who are the people who make these things and why have they not all been fired? I know several of you asked for me to review Thor for this week's movie, but I gotta tell you, if anybody wants me to watch that mess they're going to have to come up with a preview that doesn't scream "Future in the $5 Bin"….yikes. I'll also say this – the trailer for Bridesmaids isn't great either – but for the opposite reason. Yes it did make the movie look cute and funny, but it did not lend itself to the fact that the movie is FREAKING HILARIOUS.
OMG my friends, OMG. This movie is a brilliant blend of Mean Girls, The Hangover and Saturday Night Live. We're talking MAJOR laugh-out-loud business here. The movie stars Kristen Wiig (from SNL), and everyone else in the cast is great but they're not famous enough to have names. Wiig's character, Annie, is asked to serve as maid of honor for her BFF Lillian, whose wedding entourage is what I like to call a HOT MESS. Annie's life is a complete train wreck and she sorta sucks at being maid of honor, and the evil maid-of-honor-wannabe Helen (you have to use a snobby accent when you say the name Helen to get it) will stop at nothing to knock Annie out of the way so she can become Lillian's second in command.
As usual, that's about all I'm telling you because I don't want to ruin it! But know this – the trailer really made me think the movie was mostly about the bachelorette party, and it's not. The absolute genius of this flick is that the humor is creative, it's original, and it's exactly like the crazy nonsense that happens on the way to wedding bells in real life. AND, I think guys will tolerate this movie, too. By all means, if you have a group of gal pals you can watch this with, DO THAT, but if not, I do think your guy will get a few laughs out of it. For myself, I give it 4.5 very enthusiastic stars. I cannot wait to watch it again, and I'm pretty sure it's going to end up in my movie collection….and possibly on my facebook favorites list. For the rest of the world, I give it three stars. Not that you won't like it as much as me, I'm just a sucker for sarcastic girl comedy and don't want to set you up to be disappointed. If you're a girl and The Hangover is on your movie favorites list, this one was made for you. Speaking of The Hangover, number 2 comes out on Memorial Day. Let the countdown begin!
I promise next week I will not see another girl movie…suggestions welcome!!
Hugs and kisses to my sweet sister for arranging a great date, and hugs and kisses to youif you're still reading after all that!
xoxo
Lacey
[+] add comment
I give the movie and Paragould Cinema 8 a whopping 5 STARS!! Perhaps I should go update my Facebook movies now... HA! Girls, like she said you all need to see this movie. Everyone needs an excuse for a girl's night! :) -Lindsey
I LOVED this movie!! It's like the "female" version of "The Hangover"! Too funny!!!