News Taffy
News Article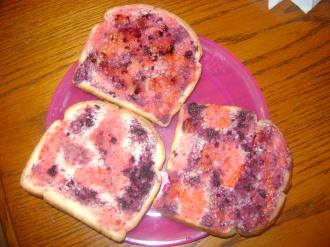 Little Hands Paint Patriotic Toast
Hello all, I hope you enjoyed your Labor Day! This weather is beyond amazing. We spent the entire day just sitting outside, but we're all paying for it today with puffy eyes and other lovely symptoms of allergies. Totally worth it.
I was looking for something fun to do, particularly something that could use red, white and blue, since it was a federal holiday. I came across an idea online of "painting" bread with milk dyed with food coloring and then toasting. I really liked the idea, but we really avoid food coloring as much as possible, especially for just because things. Yes, I'm THAT mom. So...I kept thinking how much I liked the idea, but not the food coloring..or milk on bread? What? Yuck.
Then, I had a GREAT idea! A couple of strawberries pureed, then several blueberries pureed, a paint brush or two, and TA DA! Yummy bread "paint." London loved it, and she could paint the whole thing without my concerned looks. I baked them for a few minutes face up, and then flipped them for a couple more minutes so that any part still soggy or wet from the fruit would bake. Then, I drizzled the toast with a tiny bit of honey and served. The girls loved the flavored toast! It really was so good, and fun! It took less than five minutes to prepare and another five for her to paint. Having a sleepover soon? Or a Saturday? Pull out the fruit and bread, and you'll be the coolest parent ever!
Also, remember the post about frozen muffin batter in the ice cubes that was ingenious if I say so myself? Well, try cookie dough! I keep cookie dough to bake whenever needed, since we also avoid as many preservatives as possible (don't judge me). But it can all be thrown into a Ziploc bag, then baked perfectly whenever needed!I  LOVE my freezer..why don't I have a deep freeze?
Enjoy the beautiful weather and painted toast!
Until next time,
Heather
[+] add comment